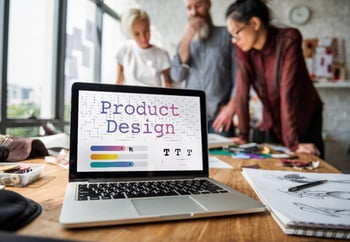 Trade dress is a type of trademark right that protects the overall appearance or feel of a product, in contrast to a traditional word or logo trademark identifying the product. Trade dress, like trademark, aids a business entity in creating an identity for its product and/or service and aids the consumers in identifying the source of the products and/or services.
The notion of what can fall under trade dress protection continues to evolve. Trade dress originally included only the packaging or "dressing" of a product, but in recent years has expanded by many courts to include the design of the product. Trade dress can range from:
Shape – Coca-Cola glass bottle, Hershey Kisses chocolate
Color or combination of colors – red sole of Christian Louboutin, robin's egg blue for Tiffany's boxes and bags, green colored dry-cleaning pads used by Qualitex
Smell – scent of the sculpting clay from Play-Doh, a cherry scent of synthetic lubricants for racing vehicles, a scent of banana and evergreen with a hint of ammonium and kerosene for gun parts
Sound – the three-tone chime used by NBC for broadcasting services, MGM's lion roaring for motion pictures and related services
Motion – the movement of doors of a Lamborghini
Ambiance mark – commercial impression of a building's interior and/or exterior such as the Apple retail stores, the layout of a restaurant and its decor style
Texture
Flavors
Trade dress is protected and enforced under the Federal Lanham Act (15 U.S.C.S. § 1125). The courts have assumed that trade dress constitutes a "symbol" or "device" and hence falls within the definition of a trademark. Ashley Furniture Indus. v. Sangiacomo N.A., 187 F.3d 363, 368 (4th Cir. 1999) (citation omitted). The courts are open to the idea that this list is not restrictive, as human beings might use "symbol" or "device" for anything that is capable of carrying a meaning. Wal-Mart Stores v. Samara Bros., 529 U.S. 205, 209-10, 120 S. Ct. 1339 (2000) (citing Qualitex Co. v. Jacobson Prods. Co., 514 U.S. 159, 162, 115 S. Ct. 1300 (1995)).
To receive Lanham Act protection, trade dress must be distinctive and non-functional. Distinctiveness is a prerequisite for registration of trade dress under § 2 of the Lanham Act and for the most part applicable in determining whether an unregistered mark is entitled to protection under § 43(a).
A trade dress can be distinctive in two ways: (1) it can be inherently distinctive, or (2) it can have acquired distinctiveness, which also known as acquiring a "secondary meaning." Secondary meaning is acquired when, "in the minds of the public, the primary significance of a [mark] is to identify the source of the product rather than the product itself." Inwood Labs. v. Ives Labs., 456 U.S. 844, 851, n. 11, 102 S. Ct. 2182 (1982). With respect to color, courts have held that a color cannot be inherently distinctive. Qualitex, 514 U.S. at 163. A color does not automatically signal the source of the product to consumers. However, over time, consumers may come to treat a particular color on a product or its packaging as signifying a brand. Id.
In Qualitex, the court articulated the meaning of functionality in the context of trade dress: "'a product feature is functional…if it is essential to the use or purpose of the article or if it affects the cost or quality of the article,' that is, if exclusive use of the feature would put competitors at a significant non-reputation-related disadvantage." Id. at 165 (quoting Inwood Labs., 456 U.S. at 850, n. 10). The Supreme Court approved the Fifth Circuit's articulation of "functionality," which was that "a design is legally functional, and thus unprotectable, if it is one of a limited number of equally efficient options available to competitors and free competition would be unduly hindered." Two Pesos, Inc. v. Taco Cabana, Inc., 505 U.S. 763, 775, 112 S. Ct. 2753 (1992) (citing Sicilia Di R. Biebow & Co. v. Cox, 732 F.2d 417, 426 (5th Cir. 1984)). This test for functionality is used to determine whether the trade dress is necessary for the product to work or is it merely making the product unique.
To bring a claim for trade dress infringement, a plaintiff must prove: (1) distinctiveness; (2) likelihood of confusion; (3) nonfunctionality (if the trade dress is not registered). As registered trade dress is presumed valid, the burden of proof shifts to the defendant to show that the registered trade dress is functional and non-distinctive by preponderance of the evidence.
As long as the trade dress is distinctive and functional, there are multiple benefits to registering the trade dress with the U.S. Patent and Trademark Office (USPTO). Apart from creating a presumption of validity in case of litigation, a registered trade dress gives exclusive right to use the trade dress nationwide. Unlike a patent, registered trade dress can be protected for indefinite period of time by continued usage and by renewing it once in every ten years. Further, in case the business entity markets or plans to market the product with a registered trademark in a foreign country, the USPTO registration can be used as a basis for registration in foreign countries.