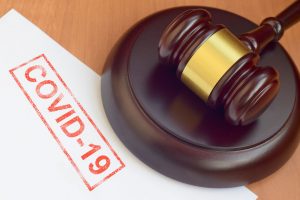 On May 28, 2020, the Ohio House of Representative passed House Bill 606 (H.B. 606), aimed at protecting businesses and health care providers from certain COVID-19 lawsuits. Six days later, on June 3, 2020, the Senate passed a similar bill, Senate Bill 308 (S.B. 308). However, the Senate bill goes beyond what H.B. 606 sought to do and provides. While the core of the two bills are very similar, the Senate bill goes to even greater lengths in protecting businesses from a broader swath of COVID-19 related liability.
What Does House Bill 606 Say?
H.B. 606 aims to protect various groups from lawsuits relating to actions taken during the COVID-19 pandemic, with the primary beneficiaries being health care providers.[1] The bill would make health care providers immune from professional discipline or tort liability for acts, omissions, or decisions related to the provision of health care services, including the decision to withhold health care services.[2] The bill would also protect health care providers from liability arising out of an executive order or director's order issued during the pandemic.[3]
Moreover, under H.B. 606, a health care provider would not be liable for any claim relating to the provider's inability to treat, diagnose, or test for illnesses due to an executive order or an order from the local board of health.[4] This includes situations where the provider is unable to perform elective procedures because of COVID-19 restrictions.[5]
Health care providers would only be liable under H.B. 606, if their act, omission, decision, or compliance constitutes reckless disregard for the consequences, constitutes willful or wanton misconduct, or is grossly negligent.[6] Gross negligence would mean the health care provider's conduct demonstrated a lack of care so great that it appears to be a conscious indifference to the rights of others.[7]
Finally, H.B. 606 protects businesses from liability for claims arising out of exposure, transmission, or contraction of COVID-19.[8] A business is liable if the exposure, transmission, or contraction of COVID-19 was the result of reckless[9] or intentional conduct or willful or wanton misconduct.[10] The bill goes on to state that executive orders, director's orders, and federal guidance do not establish a new cause of action and are not admissible evidence at trial.[11] This means that Ohio Director of Health Dr. Amy Acton's orders and guidance from the CDC would be inadmissible at a trial under this bill.
How is Senate Bill 308 Different?
S.B. 308 contains many of the same protections as H.B. 606, including identical language regarding the protections for health care providers.[12] S.B. 308 also makes clear that executive orders, orders from local boards of health, and orders from the federal government do not create causes of action and are inadmissible in court.[13] There are, however, two major differences between S.B. 308 and H.B. 606.
First, S.B. 308, like H.B. 606, protects businesses from liability for claims related to the transmission of COVID-19 in the course of business.[14] However, S.B. 308 goes one step farther and protects businesses from liability for any act or omission that may occur in the course of the business providing services as a result of or in response to COVID-19.[15] This section in particular has concerned advocates because they fear it could protect employers who fire employees for reporting unsafe work conditions. Under either section, businesses are only liable if they act recklessly, intentionally, or their conduct is willful or wanton in nature.[16]
Second, S.B. 308 provides these protections to health care providers and businesses for a greater amount of time than H.B. 606. H.B. 606 applies retroactively from the date of the Governor's Executive Order 2020-01D, issued on March 9, 2020, through to December 31, 2020.[17] S.B. 308, on the other hand, provides protection retroactively, but does not provide an end date as to the protections it would afford to health care providers. Given the silence on this point, S.B. 308 would appear to grant health care providers liability protection through the duration of the COVID-19 emergency.[18] Businesses are granted protection retroactively, beginning on March 9, 2020 extending through to April 1, 2021.[19]
What Happens Next?
The differences between these two bills will have to be resolved before identical versions can be passed by both houses and sent to Governor DeWine. Barring a major change of heart by both houses, health care providers will receive significant protection from lawsuits for the actions they take while treating patients during this pandemic. Similarly, businesses will receive substantial protection from lawsuits predicated on customers catching COVID-19 at a place of business or in the course of a business providing its services. Of course, businesses still face potential liability if they intentionally expose customers and employees to COVID-19. Businesses can also face liability if they simply ignore signs that they are spreading COVID-19 to those their business employs or interacts with. Businesses would be well served by continuing to find ways to ensure social distancing is observed and employees and customers are protected from potential sources of transmission.
____________________________
[1] Under the statute, "'health care provider' means a health care professional, health care worker, direct support professional, behavioral health provider, or emergency medical technician or a home health agency, hospice care program, home and community-based services provider, or facility, including any agent, board member, committee member, employee, employer, officer, or volunteer of the agency, program, provider, or facility acting in the course of the agent's, board member's, committee member's, employee's, employer's, officer's, or volunteer's service or employment." H.B. 606 §3(A)(20)
[2] H.B. 606 § 3(B)(1)(a)-(b).
[3] H.B. 606 § 3(B)(1)(c).
[4] H.B. 606 § 3(B)(4).
[5] Id.
[6] H.B. 606 § 3(B)(2)-(3).
[7] H.B. 606 § 3(A)(18).
[8] H.B. 606 § 4(A).
[9] "Reckless conduct" under the statute means, "conduct by which, with heedless indifference to the consequences, the person disregards a substantial and unjustifiable risk that the person's conduct is likely to cause an exposure to, or a transmission or contraction of," COVID-19. H.B. 606 § 4(C)(3).
[10] H.B. 606 § 4(A).
[11] H.B. 606 §§ 4(B), 5(B).
[12] S.B. 308 § 2305.2311.
[13] S.B. 308 § 4.
[14] S.B. 308 § 2305.2312(C).
[15] S.B. 308 § 2305.2312(B).
[16] S.B. 308 § 2305.2312(D)(1).
[17] H.B. 606 §§ 3(D), 4(D).
[18] S.B. 308 § 2305.2311(C)(5).
[19] S.B. 308 § 2305.2312(B)-(C).