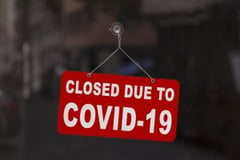 The COVID-19 pandemic has wreaked havoc on numerous industries, but one industry has suffered quite significantly. With shelter-in-place orders in effect across the majority of the United States, Americans are no longer "dining out." To survive, some restaurants are relying on "take-out" orders, but there are generally not sufficient take-out orders to make ends meet, keep business afloat, and keep staff levels consistent. Consequently, some restaurants are attempting to invoke coverage under insurance policies. But, what is the likelihood that courts will enforce these polices as the restaurants claim? In some states, like Ohio, relief is being sought through controversial proposed legislation that, if enacted, could bypass some of the hurdles that restaurants may face if they were only able to seek relief under their insurance policies as written.
Some Restaurants Are Filing Lawsuits Seeking Coverage for Lost Income
On March 25, 2020, the Thomas Keller Restaurant Group filed a declaratory judgment against its insurance provider in California's Napa County Superior Court, seeking coverage for its restaurants' lost income under their respective "all-risks" policy. Thomas Keller's all-risk policy contains a "Civil Authority" provision, which provides coverage for lost business income and extra expenses incurred if the restaurant is closed by an Order from the federal, state, or local government. This policy covers any direct or physical loss, unless the loss is specifically excluded. Pandemics are not excluded under the all-risk policy, and Thomas Keller alleges that its policy "specifically extends coverage to direct physical loss or damage caused by virus." Thomas Keller Complaint ¶ 17.
The lawsuit alleges that two of its upscale Napa County restaurants were closed down by an Order issued in response to COVID-19 requiring all Napa County residents to stay home unless they are performing essential business activities. Thomas Keller alleges that the County's stay home order triggered the insurance company's obligations under the Civil Authority provision in each restaurant's all-risk insurance policy. To implicate Civil Authority provisions, however, there must be physical damage to the property in the immediate area other than at the insured's premises.
Thomas Keller advances two arguments to demonstrate that physical damage affected the surrounding area. First, the virus "physically infects and stays on surfaces of objects or materials, 'fomites,' for up to twenty-eight days." Thomas Keller Complaint ¶ 20. These "fomites" – objects or materials that are likely to carry COVID-19 – are present in the area surrounding the insured property and cause physical damage. Second, the County's stay home order stated that it was issued based on evidence of physical damage to property, which includes the area surrounding Thomas Keller's restaurants. These facts, according to Thomas Keller's Complaint, establish the causal relationship necessary to trigger the Civil Authority provision.
Like Thomas Keller, on March 16, 2020, a New Orleans restaurant filed a similar declaratory judgment against its insurance company in Louisiana state court for business losses related to COVID-19. In the New Orleans lawsuit, Cajun Conti alleges that it maintains an "all-risks" property insurance policy that includes business interruption and Civil Authority coverage. On March 13, 2020, the Governor issued an Order banning gatherings of 250 or more people and does not exempt restaurants like Cajun Conti from the Order. Additionally, the Mayor of New Orleans issued an order restricting all full-service restaurants to cease operations at 9 p.m. daily and reduce their seating capacity by 50-percent. Presumably, restaurants remain open for take-out and delivery.
The lawsuit advances the same theory of physical harm advanced by Thomas Keller, namely that COVID-19 fomites have caused physical damage to the surrounding area. Cajun Conti Complaint ¶ 20. Cajun Conti's "all-risks" policy did not expressly exclude losses caused by global pandemics. Id. at ¶ 16. Notably, the insurance policy excludes losses due to biological materials in connection with terrorism or malicious use. Therefore, according to Cajun Conti's Complaint, the policy covers viruses and global pandemics. The allegedly covered physical harm, along with restrictive orders from the Governor and Mayor, establishes the nexus for Civil Authority coverage.
Unlike Thomas Keller, however, Cajun Conti seeks alternative coverage under its business interruption insurance coverage. Id. at ¶ 36. If the virus is causing physical damage inside the restaurants, that would constitute a business interruption not excluded under Plaintiff's all-risk policy. The Complaint cites prior Louisiana decisions that have found intrusion of lead or gaseous fumes constitute a direct physical loss under insurance policies that would need to be remediated. Id at ¶ 24. Accordingly, COVID-19 in its restaurant would be a covered, direct physical loss.
How Will Courts Address Restaurants' Claims Against Insurers for Lost Income?
How will the restaurant-plaintiffs' COVID-19 cases be resolved? The following cases decided during times of crisis are instructive:
The first hurdle the restaurant-plaintiffs must overcome is the physical damage component of their respective claims. In Dickie Brennan & Co. v. Lexington Ins. Co., 636 F.3d 683 (5th Cir. 2011), the Court held that an evacuation Order issued in anticipation of Hurricane Harvey did not trigger coverage under Civil Authority policies because the insured failed to show physical damage. The Court rejected the insured's attempt to link the damage that the hurricane caused in the Caribbean to the order that closed its New Orleans restaurant. Notably, the Order did not indicate that physical loss occurred in New Orleans. Similarly, in S. Tex. Med. Clinics v. CNA Fin. Corp., No. H-06-4041, 2008 U.S. Dist. LEXIS 11460 (S.D. Tex. Feb. 15, 2008), the Court denied the insured's Civil Authority claim where a mandatory evacuation order was issued based on anticipated harm that Hurricane Rita would cause. Anticipated harm, the Court stated, cannot trigger the insurer's Civil Authority obligations.
The main issue underlying the restaurant-plaintiffs' physical harm argument is whether COVID-19 fomites constitute a physical harm. Assuming that fomites are a physical harm, the next issue is whether the Orders were due to actual physical harm. Regarding Thomas Keller, the court may find that the Napa County Order underlying the lawsuit was issued in anticipation of physical harm, thus precluding Civil Authority coverage. When the March 18 Order was issued, Napa County had no confirmed cases of COVID-19. Although the Order states that the virus has caused physical harm to property, it appears the order was a preventative measure. An anticipated harm would sever the nexus between physical harm and the Civil Authority. Cajun Conti's claim would face a similar issue regarding its Civil Authority claim; however, if the court determines that COVID-19 fomites are a physical harm, it could recover on its business interruption claim.
The restaurant-plaintiffs must also show that the Orders actually closed their restaurants to trigger Civil Authority coverage. As demonstrated by Southern Hospitality v. Zurich Am. Ins. Co., 393 F.3d 1137 (10th Cir. 2004), the connection between a Civil Authority's Order and the business closure cannot be peripheral. There, a group of hotels sued to collect Civil Authority insurance when the federal government grounded all flights after the attacks on September 11. The Court rejected the insureds' claim because the order grounding flights and the effect on the insured's hotel were not sufficiently connected. Relatedly, in Kean, Miller, Hawthorne, D'Armond McCowan & Jarman v. Nat'l Fire Ins. Co., No. 06-770, 2007 U.S. Dist. LEXIS 64849 (M.D. La. Aug. 2, 2007), the Court held that access to a business must actually be restricted. Because the Order did not actually "prohibit access" to the insured's business, the Court denied recovery under the Civil Authority policy. Rather, the Order "merely recommended or encouraged that residents remain off the streets if possible." Id. at *10.
Both restaurant-plaintiffs will face significant pushback from their respective insurance companies because the restaurants were never actually ordered to close by a Civil Authority. The Napa County Order limited Thomas Keller's restaurants to take-out and delivery only, which does not prevent its customers from accessing the business. Similarly, the Order underlying Cajun Conti's claim only requires it to close at 9 p.m. and reduce its seating capacity by 50 percent.
Ohio Restaurants May Benefit Significantly from a Potential – and Controversial – Legislative Solution
Businesses in Ohio will likely pursue similar claims against their insurance companies, and the state legislature has proposed a bill that would help businesses recover for COVID-19 related losses.
House Bill 589 would require insurers that provide business interruption insurance to cover losses that arise from viruses and pandemics, regardless of whether the policy expressly covers such risks. The Ohio bill would apply to business interruption policies held by Ohio-based companies with 100 or fewer full-time employees, provided the policies were in effect by March 9, 2020, when Governor DeWine declared a state of emergency. H.B. 589 provides that:
"Every policy of insurance insuring against loss or damage to property, which includes the loss of use and occupancy and business interruption, in force in this state on the effective date of this section, shall be construed to include among the covered perils under that policy, coverage for business interruption due to global virus transmission or pandemic during the state of emergency."
According to Law360, the bill would "implicitly override common terms contained in business interruption policies, such as exclusions for losses due to viruses and the requirement that an interruption in a policyholder's operations be attributable to 'direct physical loss' or damage to the property." Under the bill, these reimbursements would be paid out of a fund financed by special assessments imposed on insurers that sell business interruption coverage.
H.B. 589 has generated criticism from state and federal insurance industries. Dean Fadel, president of The Ohio Insurance Institute, stated that the bill would extend business interruption insurance coverage where it was never intended and jeopardize the ability of insurers to pay those claims. The bill, according to Fadel, would likely wipe out a number of Ohio insurance companies. The National Association of Mutual Insurance Companies has also spoken out against such legislation – foreshadowing "catastrophic results" to American businesses and "irreparable harm" to contract law.
Conclusion
As shelter-in-place orders continue to be extended throughout the country, restaurants in particular will continue to struggle financially. It is likely that more restaurants will follow the example set by Thomas Keller and Cajun Conti and attempt to recoup some of their losses from insurance companies. Courts, however, may be reluctant to extend Civil Authority coverage. While COVID-19 is an unprecedented interruption to American businesses, courts have denied Civil Authority coverage in national crises such as 9/11 and Hurricane Harvey. The legislature, rather than the courts, may be the better solution for restaurants.