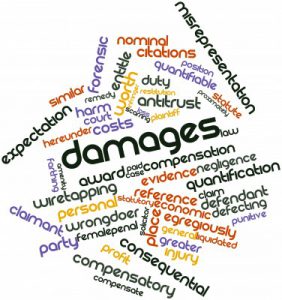 If you read my initial blog piece on the Ohio Consumer Sales Practices Act ("OCSPA"), then hopefully you have a better understanding of just what the statute says, and whether it applies to you.[i] This article takes the next step and focuses on the types of damages provided by the OCSPA. So, for purposes of this blog entry, assume that a violation of the OCSPA has taken place. What types of penalties can be expected?
Generally, upon violation of the OCSPA, a consumer may either rescind the agreement or recover actual damages "plus an amount not exceeding five thousand dollars in noneconomic damages." Ohio Rev. Code § 1345.09(A). The OCSPA can be potentially devastating for small businesses, however, because of an additional penalty it provides upon violation of the act in certain circumstances: the OCSPA also permits treble damages under certain circumstances. Ohio Rev. Code § 1345.09(B). As one court has stated, "[r]ecovery under the [O]CSPA, therefore, is not limited to making the consumer whole."[ii] Rather, the treble damages provision is intended to act as a punishment for violating the law.[iii]
WHEN ARE TREBLE DAMAGES REQUIRED?
Pursuant to Ohio Rev. Code § 1345.09(B), a plaintiff can recover treble damages if the act committed was expressly declared unconscionable or deceptive by statute, or if the act committed was expressly declared unconscionable or deceptive in a court decision and the decision was made public. Note that in the event that trebling damages results in an amount less than $200, the consumer will be entitled to the $200 amount.
By way of example, Ohio Admin. Code § 109:4-3-13(A)(1) specifically defines a deceptive act as one where a vehicle is serviced without a prior written estimate or work order authorizing the work to be performed without such estimate.[iv] If a car repair company engages in such an act, then the repair company would be liable for treble damages, since the act was expressly declared deceptive by statute.
TREBLE DAMAGES NOT DISCRETIONARY
Importantly, treble damages are not discretionary when a party satisfies the prerequisites: "When a plaintiff has made its election for damages and has met the prerequisites for treble damages under 1345.09(B), the statute does not make it discretionary for a trial court to award either actual damages or treble damages[.]"[v] Put differently, "after a plaintiff satisfies the predicate requirements, R.C. 1345.09 mandates that a trial court award treble damages."[vi]
In fact, it matters not whether a court believes that a defendant acted in good faith, or believes that an award of treble damages would be unjust. If a plaintiff satisfies the requirements, then denying treble damages because of perceived unfairness or good faith on the part of the defendant "is in direct contravention of the statute."[vii] In other words, "[g]ood faith and substantial compliance do not provide a defense to an award of treble damages. The trial court is not free to exercise its sound discretion in fashioning a remedy appropriate to the facts."[viii] Indeed, Ohio appellate courts routinely reverse trial court decisions denying treble damages, despite the trial court's belief that the defendant's conduct was not sufficiently egregious to warrant treble damages, because the consumer satisfied the requirements of Ohio Rev. Code § 1345.09(B).[ix]
ATTORNEYS' FEES
In addition to treble damages, businesses should be aware of other damage traps. For example, if the plaintiff can prove that a supplier knowingly committed an unconscionable or deceptive act, then the plaintiff may recover reasonable attorneys' fees. "Knowingly" means only that the supplier knows that it acted or failed to act in a certain way, not that the supplier realizes that its act violated the OCSPA. In other words, a supplier could violate the OCSPA even if it has no intent to deceive. The silver lining for potential defendants in this respect, though, is that these damages are discretionary, not mandatory like treble damages.
A CURE?
There is some good news for suppliers. Recently, Ohio passed a law permitting suppliers to make a "cure offer" to consumers who have filed a claim under the OCSPA. If a valid cure offer is rejected by the plaintiff, and that plaintiff is not awarded a ­greater amount by the trier of fact, then the plaintiff will not be able to recover treble damages, court costs, and attorney's fees that otherwise would have been available. The next question, then, is what constitutes a valid cure offer?
Ohio Rev. Code § 1345.092 is the recently-enacted provision regarding a supplier's right to cure. Under this statute, a cure offer must: be made within 30 days of service of process;
be made within 30 days of service of process;
be sent via certified mail to plaintiff (or his/her attorney);
be filed with the court;
include supplier's offer "that consists solely of monetary compensation to resolve alleged violations" of the OCSPA;
include an offer to pay reasonable attorney's fees necessary to cover the filing of the original complaint, not exceeding $2,500; and
include an offer to pay court costs incurred by plaintiff and relating to filing costs.
Additionally, the cure offer must include a disclosure, per Ohio Rev. Code § 1345.092(D)(2), which essentially spells out for the plaintiff what the cure offer entails and the potential consequences of not accepting the offer. The plaintiff then has 30 days in which to accept the cure offer, which acceptance must be filed with the court (just like the initial cure offer, noted above).
While many defendants are reluctant to make offers to settle a matter so early in proceedings, this "right to cure" provision provides both parties -- a plaintiff and a defendant -- with incentive to try to settle the case early, and provides defendants a mechanism in which to avoid potentially devastating treble damages.
---