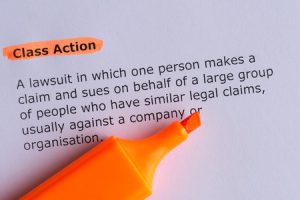 The United States Supreme Court has an opportunity this term to hear a case that may change the way litigants pursue class actions. On the heels of their loss at the Sixth Circuit, Behr Dayton Thermal Products LLC ("Behr"), filed a Petition for a Writ of Certiorari with the Supreme Court on October 12 that challenges whether the Sixth Circuit's "broad view" interpretation of Rule 23(c)(4) is the correct interpretation of the class action rule. The Sixth Circuit decision was discussed in detail in a blog post from August 1.[1]
This case was first filed back in 2008 by thirty named plaintiffs in the McCook Field neighborhood of Dayton Ohio. Martin v. Behr Dayton Thermal Products, LLC, No. 17-3663, slip op. at 2 (6th Cir. July 16, 2018). The plaintiffs allege that the groundwater beneath their properties is contaminated with carcinogenic volatile organic compounds (VOCs) as a result of the defendants[2] releasing chemicals from their nearby facilities. Id. at 2-3. The chemicals seeped from two properties, forming two separate plumes that converged south of the facilities and ultimately migrated to the area beneath the plaintiffs' properties. Id. at 3. The plaintiffs originally filed suit in the Court of Common Pleas for Montgomery County, but one of the original defendants, Chrysler, removed the case to the Southern District of Ohio. Id. at 4.
The plaintiffs sought to certify a class as to liability for private nuisance, negligence, negligence per se, strict liability, and unjust enrichment under Rule 23(b)(3). Id. The District Court determined that the plaintiffs could not meet Rule 23(b)(3)'s predominance requirement due to "[h]ighly individualized issues concerning fact-of-injury and causation" that overwhelmed the questions common to the class. In Re Behr Dayton Thermal Products, LLC, Case No. 3:08-cv-326, PAGEID # 9749 (S.D. Ohio March 20, 2017). The plaintiffs alternatively moved to certify seven common issues under Rule 23(c)(4), which the District Court granted. Martin, slip op. at 5. In July, a three judge panel in the Sixth Circuit aligned with the Second, Fourth, Seventh, and Ninth Circuits in adopting a "broad view" of Rule 23(c)(4). Id. at 7-8.
Rule 23(c)(4) governs a court's ability to certify "a class action with respect to particular issues." The Sixth Circuit adopted a position that would allow issue classes to "be certified without a finding of predominance for the whole cause of action." Petition for Writ of Certiorari ("Petition"), p. 6. According to Behr, this has created a three-way circuit split with the Second and Ninth adopting a "broad view"; the Third, Sixth, and Seventh adopting a "functional, superiority-like analysis"; and the Fifth adopting a "narrow view." Id. at 10, 13-14.
In its Petition, Behr argues that only the Fifth Circuit has correctly interpreted Rule 23(c)(4) and that, "[a]ny approach that does not require a finding of predominance for an entire cause of action provides an end-run around the requirements of Rule 23(b)(3)." Id. at 9. The Fifth Circuit has held that Rule 23(c)(4) cannot be used to manufacture predominance, instead it "is a housekeeping rule that allows courts to sever the common issues for a class trial." Castano v. American Tobacco Co., 84 F.3d 734, 745 n.21 (5th Cir. 1996). The Fifth Circuit went on to explain, "[t]he proper interpretation of the interaction between subdivisions (b)(3) and (c)(4) is that a cause of action, as a whole, must satisfy the predominance requirement of (b)(3) and that (c)(4) is a housekeeping rule that allows courts to sever the common issues for a class trial." Id. Narrowing issues until common issues predominate over individual ones "would eviscerate the predominance requirement" according to the Fifth Circuit. Id.
Behr further argues that the text of Rule 23 limits the pre-requisites for establishing a class action to subdivision (b), while subdivision (c) serves as an instructional section for such matters as orders, notices, and judgments. Petition at 17-18. Behr argues that the text of Rule 23 consistently uses the word "action," which, at its most granular, can only refer to a singular cause of action or, more broadly, an entire case. Id. at 17. Furthermore, subdivision (c)(4) is labeled "Particular Issues" and, by its own terms, does not purport to create a new kind of class action. Id. at 18. Instead (c)(4) provides a tool for courts to manage cases by allowing a class action to be "maintained with respect to particular common issues even if the cause of action also contains individual issues . . . ." Id. at 18-19. Behr finally argues that the route the Sixth Circuit took to certify the issues in this case is inconsistent with the language of Rule 23. Id. Behr argues that the Sixth Circuits sought to determine whether individual issues predominated within the issue classes, rather than determining whether the "common issues predominate for the cause of action as a whole." Id. (emphasis omitted).
The conclusion of Behr's Petition argues that the advisory committee note provides that Rule 23(c)(4) could be used to maintain an "action" as a class action through the liability phase of trial, while requiring class members to later prove their damages individually. Id. at 20. Behr then argues that Supreme Court precedent further illustrates that the predominance requirement is a procedural safeguard that must be satisfied in any other type of action, therefore, it would be untenable if a court did not do so before certifying an issue class under Rule 23(c)(4). Id. at 22-24.
The case will have significant consequences on the class action process if taken up by the Court. If the Fifth Circuit viewpoint is followed, then courts across the country will begin applying a much stricter test to certifying issues under Rule 23(c)(4). This would give defendants an upper hand in defeating class action certification for particular issues, requiring plaintiffs to prove the predominance of the issues on a much larger scale. If the Court, instead, chooses to adopt an approach similar to the Sixth Circuit, it arguably presents an easier route to class certification for plaintiffs. Instead of proving the predominance of issues for the whole class, plaintiffs would be able to narrow down issues until there is predominance within the issue itself.
This question appears poised for review by the Supreme Court. There is obvious inconsistency in the way the circuits are applying Rule 23(c)(4) that could be resolved by an opinion from the Supreme Court. This case also presents the Supreme Court with a lower court opinion that arguably departs from a strict construction of the text of the rule, which may entice textualist justices, such as Justice Gorsuch, to jump on this case. Only four justices are needed for the Court to accept the case and it seems likely that this case may draw the interest of a number of the justices.
The case has been distributed for the December 7, 2018 conference; I will continue to provide updates as the case progresses.
[1] https://www.ficlaw.com/class-actions/archives/sixth-circuit-delivers-a-win-for-class-action-plaintiffs/
[2] Chrysler Motors LLC, and Aramark Uniform & Career Apparel, Inc. specifically, though Chrysler later sold the property in question to Behr.