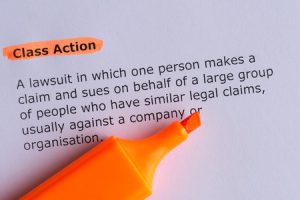 In Martin v. Behr Dayton Thermal Products, LLC, a three judge panel for the Sixth Circuit adopted the "broad view" of Fed. R. Civ. P. 23(c)(4). Martin No. 17-3663, slip op. at 8 (6th Cir. July 16, 2018). In so doing, the three judge panel of the Sixth Circuit joined the Second, Fourth, Seventh, and Ninth Circuits in following the "broad view." Id. at 7.
This case was first filed back in 2008 by thirty named plaintiffs in the McCook Field neighborhood of Dayton. Id. at 2. The plaintiffs allege that the groundwater beneath their properties is contaminated with carcinogenic volatile organic compounds (VOCs) as a result of the defendants[1] releasing chemicals from their nearby facilities. Id. at 2-3. The chemicals seeped from two properties, forming two separate plumes that converged south of the facilities and ultimately migrated to the area beneath the plaintiffs' properties. Id. at 3. The plaintiffs originally filed suit in the Court of Common Pleas for Montgomery County, but Chrysler removed the case to the Southern District of Ohio. Id. at 4.
The plaintiffs sought to certify a class as to liability for private nuisance, negligence, negligence per se, strict liability, and unjust enrichment under Rule 23(b)(3). Id. The District Court determined that the plaintiffs could not meet Rule 23(b)(3)'s predominance requirement due to "[h]ighly individualized issues concerning fact-of-injury and causation" that overwhelmed the questions common to the class. In Re Behr Dayton Thermal Products, LLC, Case No. 3:08-cv-326, PAGEID # 9749 (S.D. Ohio March 20, 2017). The plaintiffs alternatively moved to certify seven common issues under Rule 23(c)(4), which the District Court granted. Martin, slip op. 17-3663 at 5. Both parties appealed the order. Id. at 5-6. The Sixth Circuit affirmed the lower court's decision and on August 20, 2018, denied defendants-appellants' petition for rehearing en banc.
Rule 23(c)(4) states, "[w]hen appropriate, an action may be brought or maintained as a class action with respect to particular issues." Fed. R. Civ. P. 23(c)(4). Under the "broad view" of Rule 23(c)(4) the court applies the predominance and superiority prongs of Rule 23(b)(3) "after common issues have been identified for class treatment." Martin, slip op. 17-3663 at 7. This view allows courts to apply Rule 23(c)(4) even if predominance has not been established for the entire cause of action. Id. In adopting the broad view, the Sixth Circuit reasoned that the "narrow view," which would require predominance for the entire class, "would undercut the purpose of Rule 23(c)(4)." Id. at 10.
Rule 23(c)(4) allows courts to isolate common issues and proceed with class treatment, even if common questions do not predominate over individual questions so that class certification for the entire action would be appropriate. Id. at 7 (citing Valentino v. Carter-Wallace, Inc., 97 F.3d 1227, 1234 (9th Cir. 1996)). The appellate court cautioned, however, that the superiority requirement of Rule 23(b)(3) "functions as a 'backstop' against inefficient use of Rule 23(c)(4)." Id. at 9.
The District Court denied class certification under Rule 23(b)(3), which would have allowed plaintiffs to establish the cause of the injuries to the plaintiffs by one common showing of proof, as opposed to each individual plaintiff offering separate and varying pieces of evidence that his or her injury had been caused by the defendants' acts. Conversely, Rule 23(c)(4) allows the court to certify particular issues that are common to the whole class, such as "[w]hether Defendants negligently failed to investigate and remediate the contamination at and flowing from their respective Facilities." Id. at 5. The plaintiffs will now be able to make one evidentiary showing and gain resolution on that question, thus allowing them to use that ruling in later trials, even if some additional individualized evidence on causation is necessary.
While this decision is not a seismic shift in class action litigation it offers courts the ability to narrow issues until it finds issues common enough to satisfy predominance and justify class certification of portions of the case. Defendants will want to be mindful of how particularized the questions become, however. Questions that are too minor or insignificant may give defendants the opportunity to defeat an attempt to certify a class under Rule 23(c)(4) since it simply will not be an efficient use of the court's time.
[1] Chrysler Motors LLC, and Aramark Uniform & Career Apparel, Inc. specifically, though Chrysler later sold the property in question to Behr.