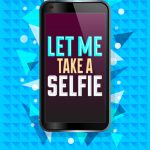 Justin Timberlake—singer, occasional actor, and creative gift giver—recently caught controversy when he posted a selfie of his vote to his Instagram. What Justin didn't know was that Tennessee law prohibits voters from taking pictures of themselves within polling locations. The local district attorney's office went as far as to investigate—penalties can include up to 30 days in jail—but dropped the matter once Justin said Bye, Bye, Bye to the picture and removed it from his account.
However, if recent federal caselaw is any indication, then Justin can keep posting those selfies without putting on his Suit and Tie to go to court. Just three days before JT's selfie Popped up online, the United States District Court for the Western District of Michigan (which, like Tennessee and Ohio, sits within the jurisdiction of the Sixth Circuit Court of Appeals) entered a preliminary injunction prohibiting the state of Michigan from enforcing its ban on photography in a polling place or voting station. Crookston v. Johnson, Case No. 1:16-cv-1109 (W.D. Mich. Oct. 24, 2016). The Michigan decision follows closely one out of the First Circuit Court of Appeals (covering Maine, Massachusetts, New Hampshire, Puerto Rico, and Rhode Island) striking down a similar New Hampshire law. Rideout v. Gardner, No. 15-2021 (1st Cir. Sep. 28, 2016).
In Crookston, the plaintiff—who, the court felt the need to point out, "owns and usually carries a cell phone"—challenged a Michigan law that prohibits a voter from showing his marked ballot "to any person in a manner likely to reveal the name of any candidate for whom the elector voted . . . ." Mich. Comp. Laws 168.579. Michigan's secretary of state interpreted this provision to ban all photographs and cell phones in the polling station. Voters who violate the law risk having their ballot "rejected for exposure" and being imprisoned for up to 90 days.
The plaintiff argued that the selfie ban was an unconstitutional content-based restriction under the First Amendment. Remember, the First Amendment means that the government must generally allow citizens to speak with No Strings Attached as to the content of their speech. Content-based laws are subject to "strict scrutiny," which means the law will be upheld only if the government proves it is narrowly tailored to serve compelling state interests. Reed v. Town of Gilbert, 135 S. Ct. 2218, 2226 (2015). The court agreed that the law was a content-based restriction that failed strict scrutiny.
The Crookston court then went a step further, however, and found that the statute should be Dead and Gone even under the intermediate level of scrutiny applied to content-neutral restrictions. Under intermediate scrutiny—the standard applied in the Rideout case—a speech restriction is constitutional only if the law is "narrowly tailored to serve a significant governmental interest." Ward v. Rock Against Racism, 491 U.S. 781, 791 (1989) (emphasis added). The First Circuit concluded that the stated purpose for the selfie bans—the prevention of vote buying and voter intimidation—was only an "abstract" problem because there was no evidence that the advent of digital photographs, camera phones, and social media actually caused any vote buying or voter intimidation problems. New Hampshire, for example, has not received a complaint of vote buying or voter intimidation since 1976, years before The Social Network Facebook changed its name from "The" Facebook.
Ohio law also bans ballot selfies. Ohio Rev. Code 3599.20 (making ballot disclosure a fifth degree felony). If the Crookston decision is affirmed by the Sixth Circuit, however, then that decision would likely prohibit Ohio from enforcing its own ban against any celebrities—like, say, a Lachey brother—who feel the need to prove they voted The Way You Want Me To (which is a 98 Degrees song, not that anyone is expected to know that).
Of course, no one can fault JT for not wanting to Tear[] Up [His] Heart (OK, even I cringed at that one) with criminal charges, so his decision to remove the selfie is understandable. Nevertheless, he will hopefully take comfort that federal courts are actively safeguarding his free speech right to Rock Your [Vote] on social media.