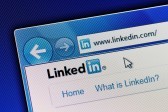 LinkedIn is the most common social networking site used by legal professional and allows you to reach more than 140 million members, 39 percent of whom are managers, directors, owners, chief officers, or vice presidents. As of June 30, 2012, LinkedIn counts executives from all 2011 Fortune 500 companies as members. Despite the numerous benefits that LinkedIn provides to members of the legal profession, such as legal updates and sharing information, many attorneys fail to use their LinkedIn account effectively by not completing their LinkedIn profile and not utilizing the various apps and features provided by LinkedIn.
For example, by failing to complete a LinkedIn profile or including keywords relevant to your practice, you risk not appearing on keyword searches by colleagues and potential clients. In addition, if you show up on keyword searches that do not relate to your practice or your profession and users do not click on your profile, then it can lead to your profile not showing up on later searches and can even lead to your profile being classed as a spammer by the LinkedIn search engine.
In my article, titled Five Effective Ways to Use Your LinkedIn Account, which was recently published in The Young Lawyer, the American Bar Association's Young Lawyers Division's practice-oriented publication, I discuss methods to effectively use LinkedIn and increase your visibility. Specifically, I provide information about completing your profile, tagging connections, joining useful groups, and downloading useful applications such as JDSupra and Box. My article is available online at http://www.americanbar.org/publications/young_lawyer/2011-12/september_2012_vol_16_no_10/five_effective_ways_use_linkedin_account.html.