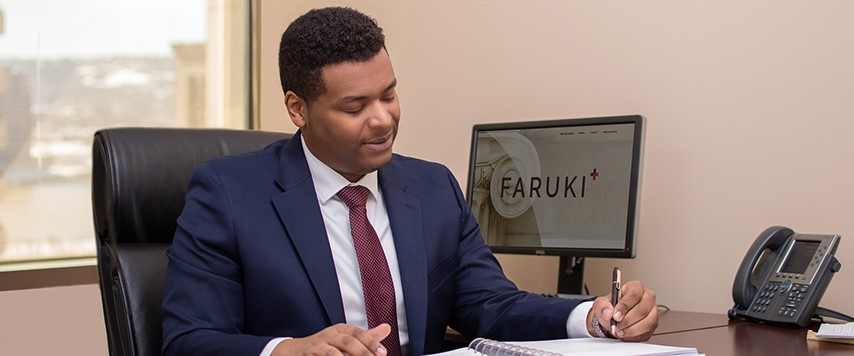 DAYTON, OH — [February 16, 2022] – Faruki PLL (Faruki+) is pleased to welcome Finley Newman-James to the firm, practicing in our Dayton office. Finley will represent and advise clients facing a variety of commercial litigation issues, including contractual disputes, financial services litigation, business torts, and employment concerns. Finley currently resides in Pickerington, Ohio.
"At this point in my professional career, it is a privilege to join a law firm so well-respected by our peers and to have the opportunity to further develop and learn from some of Ohio's most distinguished attorneys in their respective practices," said Newman-James. "Faruki+ attorneys are known for excellence, integrity, and our commitment to the ever-evolving needs of our clients. I look forward to helping carry on our firm's tradition of securing extraordinary results and providing unparalleled service to our clients for years to come."
Finley earned his Juris Doctor from The Ohio State University Moritz College of Law in 2020. While at Moritz, he was on the Executive Board of The Ohio State Business Law Journal and Real Estate Law Association. Additionally, his written work was selected to be published as part of Moritz's Drug Enforcement and Policy Center's Student Paper Series in 2019.
Finley received his Bachelor of Arts in Political Science and in Public Administration, summa cum laude, in 2017 from Capital University in Bexley, Ohio.
To learn more about Faruki+, please visit www.ficlaw.com.
About Faruki PLL
Faruki+ is a litigation firm with offices in Dayton and Cincinnati that handles complex disputes, including intellectual property, class actions, competition-based litigation, employment, antitrust, privacy, commercial litigation, and arbitration. You can find Faruki+ on LinkedIn and Twitter at @FarukiMediaLaw. Also, visit the business litigation blog site, for the latest developments in business litigation, intellectual property, data security, communications and media, class actions, and employment.