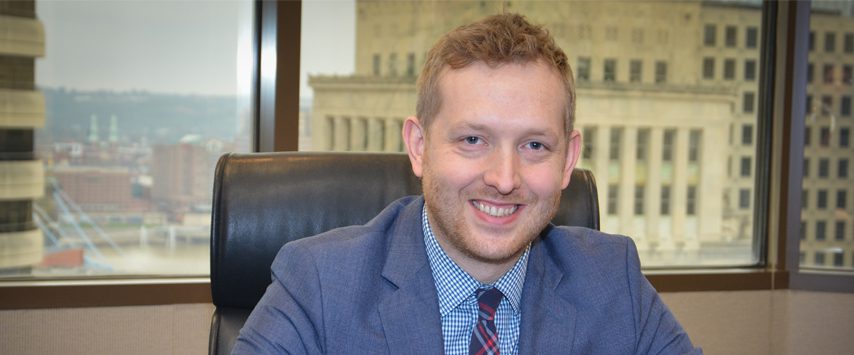 CINCINNATI, OH—August 28, 2023—Jason Palmer is returning to Faruki PLL after working for the Ohio Attorney General's Antitrust Division. Jason will be based in Faruki's Cincinnati office.
Prior to joining the Ohio Attorney General's office, Jason spent several years with Faruki, focusing on employment and general commercial litigation. Specifically, Jason litigated cases in both state and federal courts, on matters including consumer protection statutes, advertising law, class action defense, breach of contract, non-compete agreements, trade secrets, alternative dispute resolution, distributor disputes, and labor and employment matters. Jason also advises corporate clients on contract negotiation and drafting, regulatory compliance, and other day-to-day business matters.
"The opportunity to return as a partner to Faruki, where I enjoy practicing and have great colleagues, was too good to pass up. The firm has only gotten stronger in my time away, and I look forward to coming back and helping contribute to its continued growth," says Palmer.
"We are thrilled that Jason has decided to rejoin Faruki as a partner. Having worked with Jason for many years, we are well aware of the high quality of his work and the benefits our clients receive from his experience and professionalism," says Co-Managing Partner, Erin Rhinehart.
Jason holds a J.D. from Georgetown University Law Center and a dual degree in Journalism and Spanish, cum laude, from The Ohio State University. Jason received the Community Service Award from the Cincinnati Bar Association, Young Lawyers Section in 2015. He was also recognized as a Super Lawyer, Rising Star for 2021‑2022. Jason is a graduate of the 2020 class of the Cincinnati Bar Association's CALL program ("Cincinnati Academy of Leadership for Lawyers").
To learn more about Jason or Faruki, contact Joan Germann at (937) 227‑3727.
About Faruki PLL
Faruki PLL is a litigation firm with offices in Dayton and Cincinnati that handles complex disputes, including intellectual property, class actions, competition-based litigation, employment, antitrust, privacy, commercial litigation, and arbitration. You can find Faruki PLL on LinkedIn and Twitter at @FarukiMediaLaw. Also, visit the business litigation blog site, for the latest developments in business litigation, intellectual property, data security, communications and media, class actions, and employment.