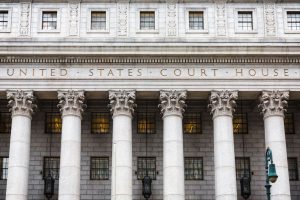 A soccer player's agent files a lawsuit for about $10,000 in unpaid agent fees, allegedly owed under a player's contract. Both the player and the professional soccer league are named as defendants. Due to the amount in question, the agent files the suit in small claims court in New York, where the league is headquartered. Can this lawsuit be removed to federal court?
That question is currently pending before the United States District Court for the Eastern District of New York, in the matter Ghirlanda v. Blessing, et al., 1:22-cv-03800.
According to the notice of removal filed by the defendant, the plaintiff Simone Ghirlanda previously acted as the player agent for the Major League Soccer ("MLS") player Latif Blessing. In 2017, Blessing signed a Standard Player Agreement ("2017 SPA") with MLS to play for the team Sporting Kansas City. (In MLS, which is a single-entity sports league, Standard Player Agreements or "SPAs" are signed directly between the player and the league.) Under the 2017 SPA, attached to the notice of removal, Ghirlanda was entitled to agent fees of $12,500 in 2017, $7,500 in 2018, and $7,500 in 2019. The 2017 SPA also included an option whereby MLS could extend Blessing's contract to 2020, in which year Ghirlanda would be entitled to a $10,000 fee.
MLS did not exercise the 2020 option. Instead, MLS and Blessing agreed to a new SPA ("2019 SPA"), running from July 1, 2019 to December 31, 2022. The 2019 SPA named a different individual (rather than Ghirlanda) as the player agent.
Ghirlanda filed a suit in the City of New York, Queens Small Claims Part against MLS and Blessing for the $10,000 that he did not receive for the year 2020. Blessing filed a notice of removal to the Eastern District of New York on June 28, 2022, and Ghirlanda filed a motion to remand the matter back to state court 10 days later, on July 8.
The question currently before the federal court is whether it has jurisdiction. Issues of contract interpretation are usually governed by state law (with, of course, exceptions). Federal courts, however, have jurisdiction over cases governed by state law in which the amount in controversy exceeds $75,000 and the case is between:
(1) citizens of different states;
(2) citizens of a state and citizens or subjects of a foreign state (unless those foreign citizens are U.S. permanent residents domiciled in the same state as the U.S. citizens);
(3) citizens of different states and in which citizens or subjects of a foreign state are additional parties; and
(4) a foreign country as plaintiff against citizens of a state or different states.
28 U.S.C. § 1332(b).
Generally, full diversity of citizenship is required—meaning that every plaintiff must be a citizen of a different state from every defendant. In addition, the action cannot be removed based on diversity of citizenship if any defendant is a citizen of the state in which the suit is brought. 28 U.S.C. § 1441(b)(2). Here, MLS is located in New York, and the case was originally filed in New York state court.
On the other hand, civil actions based on federal law can be removed regardless of the citizenship of the parties to the litigation. Whether an action is based in federal law is generally determined by the "well-pleaded complaint" rule, which means that the federal question must be presented by the complaint itself. But courts have developed an exception to this rule: The complete preemption doctrine. Saunders v. Ford Motor Co., No. 3:14-CV-00594-JHN, 2015 U.S. Dist. LEXIS 7059, at *8 (W.D. Ky. Jan. 22, 2015). The complete preemption doctrine serves as the basis for Blessing's notice of removal.
Under Section 301(a) of the Labor Management Relations Act, federal courts have original jurisdiction over suits for violation of contracts between an employer and a labor organization. 29 U.S.C. § 185(a). Courts have held this law to preempt state law claims based directly on rights created by a collective bargaining agreement or that substantially depend on an interpretation of a collective bargaining agreement. Caterpillar, Inc. v. Williams, 482 U.S. 386, 394 (1987). "[Section] 301 . . . not only pre-empt[s] state law but also authoriz[es] removal of actions that [seek] relief only under state law." Beneficial Nat. Bank v. Anderson, 539 U.S. 1, 6–7 (2003). Blessing, as an MLS player, is a member of the MLS Players Association ("MLSPA"). The MLSPA and MLS are party to a Collective Bargaining Agreement ("CBA"). The SPA is negotiated each term in connection with the CBA, and the CBA is incorporated into each player's SPA. Based on these principles, Blessing argued in his notice of removal that Ghirlanda's claims require interpretation of the collectively bargained SPA and the CBA itself.
In his motion to remand the matter back to state court, Ghirlanda raised two primary arguments: (1) that his original lawsuit is in fact to enforce a private agreement between him and Blessing (rather than the SPA or the CBA); and (2) that Blessing did not timely file his notice of removal.
As to the first point, Ghirlanda argues that he first met Blessing while Blessing was a professional soccer player in Ghana, and that the two signed a private agreement appointing Ghirlanda as Blessing's exclusive representative. Blessing originally joined Sporting Kansas City, but he was traded to Los Angeles Football Club after the 2017 season. The history of the dealings among Blessing, Ghirlanda, MLS, and others, as set forth in the motion to remand, is somewhat complicated, but ultimately, in 2019, Blessing informed Ghirlanda that Ghirlanda would no longer be Blessing's representative. The right to agent fees starting in 2020 were assigned to a different person.
On timeliness, Blessing attested in his notice of remand that he was not served with the complaint until June 22, 2022, although it was filed many months earlier. A defendant has only 30 days after service of the complaint to file a notice of removal, and this deadline cannot be extended.
Now, before turning to the merits of the case, the district court must determine whether Ghirlanda's claims are merely state claims based in contract or are preempted by federal law. The proceedings will be interesting to follow, but so far there are at least two clear takeaways. First, it is necessary to consider all of the possible directions and costs of a lawsuit before filing, so that a seemingly simple small claims matter does not suddenly turn into a federal case. Second, defendants who would prefer to face claims in federal court should carefully and thoughtfully consider all potential arguments for federal jurisdiction, and they need to do so quickly—once the clock for removal hits zero, there might not be any way to restart it. In soccer games, extra time may be added for stoppages and delays; the same is not true for jurisdictional deadlines.