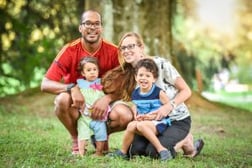 An unknown author said that "family is a little world created by love." Does this comport with the old adage that "blood is thicker than water"? Well, maybe not.
Any practitioner of adoption law can sadly tell the tale (and truth) as old as time: child gets removed from biological home. Child is placed with foster family. Child bonds with and flourishes under the care of foster family. Parental rights are terminated. Foster family desperately wants to adopt foster child. Eight, nine, ten or more months, if not years pass. An out of state relative who may or may not know the child, suddenly expresses interest in taking the child. Child is abruptly removed from the foster home and placed with relative. The DNA of the relative trumps all bonding, security, stability, progress and love the child has experienced. End of story, albeit a sad one.
The "kinship preference" gives relatives preference over all others for an out-of-home placement of a child in the foster system. "Kinship" refers to relatives as well as family friends. States such as Ohio and Kentucky utilize this and recognize the importance of family bonds. Placing a child with kin should always be the first preference, assuming the kin are willing and qualified; however, most states allow for a lengthy, if not an indeterminate amount of time in which kin may come forward while the child is in foster care.
Adoption and foster parent advocates nationwide are hailing new legislation passed in Georgia as groundbreaking and hoping such measures sweep the nation. The new law was signed into effect recently by Georgia Governor Brian Kemp. SB 167 effectively restricts the "kinship preference." In other words, blood relatives need to speak up early if they want to take the child at issue. Specifically, "If a relative entitled to notice . . . fails, within six months from the date he or she receives the required notice, to demonstrate an interest in and willingness to provide a permanent home for the child, the court may excuse DFCS from considering such relative as a placement."
In Arizona, similiar legislation was passed, though specific only to drug exposed and drug dependent infants and up to age three. This legislation lets courts consider foster parents who have cared for an infant or toddler for at least nine months as equals to the child's family members when considering who may adopt the child. Critics argue that this time frame is not long enough for drug addicted parents to get their act together to parent. This argument then brings the "best interest" standard to mind when considering the issues of the passage of time, stability and bonding.
Georgia and Arizona are establishing that the "best interest" of a child is not always a kinship placement. Such legislation acknowledges that the removal of a child from a foster home where a bond has been established can be incredibly damaging to the child. Just when the child begins to feel stability and a sense of permanency, they are torn from the home. Again. Another bond destroyed.
Children who experience instability often suffer behaviorally, emotionally, cognitively, academically and developmentally. By establishing stability as early as possible for a removed child, the hope is that a positive long term outcome can be achieved. Time will tell whether this type of legislation that limits the kinship preference will have such an effect.
For additional information, click here.
Ruth Kelly is an attorney of counsel with Faruki PLL. She practices adoption law, representing both birth parents and adopting parents in private as well as county adoptions. She is also a foster parent.