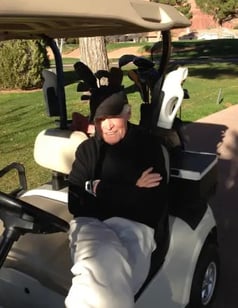 Armistead W. ("Bill") Gilliam, Jr., passed away peacefully September 22, 2023 at his home in Sedona at the age of 93, with his wife Kath by his side. He attended the University of Virginia and earned a law degree from George Washington University. He practiced law in Washington, D.C. with Arnold & Porter, and then came to Dayton as trial counsel in an antitrust case that took six months to try in federal court before Judge Weinman, Elder Beerman Department Stores v. Federated Department Stores. That case led to his joining the firm of Smith & Schnacke in Dayton, which he ultimately left to be a co-founder with Jeff Ireland and Charlie Faruki of Faruki Gilliam & Ireland, nka Faruki PLL.
As a trial attorney, Bill focused on complex litigation. He was lead counsel in cases ranging from antitrust to class actions to environmental law, and with Dave Greer represented the Mead Corporation in its takeover fight against Occidental Petroleum Corporation, when Occidental's majority owner Armand Hammer attempted to take over Mead, which was headquartered in Dayton. He represented Holiday Inns, Inc. in numerous cases. He argued a case in the U.S. Supreme Court, on behalf of voting rights for Ohio's black citizens. He was counsel to the Ohio Democratic party, served as chair of the Board of Trustees of Wright State University, and chair of the Federal Bar Examination Committee in the Southern District of Ohio. He developed and taught courses in Complex Litigation and Negotiation at the University of Dayton School of Law.
Bill was witty and funny, to the delight of his friends and family. He had a lifelong love of golf, enjoyed traveling, and was pleased to have climbed Mt. Kilimanjaro. He was fond of the island of Maui, convertible cars, tennis, cooking, and winning arguments.