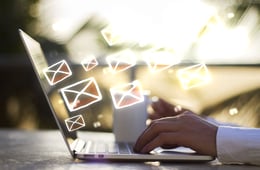 Contract negotiations for a downtown Cincinnati building – abutting the southbound I-71 entrance ramp – became the perfect vehicle for the First Appellate District to apply traditional contract principles to modern contract formation. After Frank Albi's prolonged struggle to find a purchaser for his company's piece of real estate, he began negotiating with two interested buyers simultaneously. When Albi agreed to sell to one interested buyer, the other buyer, Joe Vogel, brought a lawsuit against Albi and Third Street Associates, LLC ("Third Street") for breach of contract. The ensuing litigation provided insight as to how the First District applies the law of contract formation when the contract is purportedly formed via email.
Facts. Albi, on behalf of Third Street, listed its Downtown Cincinnati property for sale with a local real estate agent. The agent was unable to find a buyer, so Albi engaged an Oklahoma-based auction company to sell the property. An auction held in November 2018 similarly failed to result in a sale. Then, on December 3, 2018, Vogel emailed the auction company to express his interest in making an offer on the unsold property. The auction company's agent, Vicky Blackmon, responded that the property was still available. Over the next few days, Vogel and Blackmon exchanged the following emails:
Vogel to Blackmon (Dec. 3, 2018, at 4:49 p.m.): It didn't get a bid over 500k?

Blackmon to Vogel (Dec. 3, 2018, at 5:55 p.m.): No it did not. Would you like to make an offer over 500k?

Vogel to Blackmon (Dec. 3, 2018, at 8:37 a.m.): I . . . can have you the money within 24 hours. $400,000.

Blackmon to Vogel (Dec. 4, 2018, at 12:47 p.m.): Will you be paying cash for the property? Will you be able to close in 30 days? Once I have this information I will present your offer and see if the seller will entertain the offer.

Vogel to Blackmon (Dec. 4, 2018, at 12:57 p.m.): Cash, close in 30 days. I sent it to my lawyer, if nothing is wrong per him, it's a done deal.

* * *

Blackmon to Vogel (Dec. 4, 2018, at 7:49 a.m.): The seller is considering your offer of $400,000 and will let me know something by Friday. Please make arrangements to be prepared to sign the contract on Friday and wire down payment funds that day. The down payment will be $42,000 . . . Please note that you will be responsible for the closing costs as listed in the contract. $400,000.00 Purchase Price, $20,000 Buyer's Premium, $420,000.00 Total Purchase Price, $42,000 Down Payment. Let me know if you have any questions.

Vogel to Blackmon (Dec. 5, 2018, at 8:40 a.m.): ok, let me know.

* * *

Blackmon to Vogel (Dec. 7, 2018, at 9:40 a.m.): Good morning and Happy Friday! The seller has accepted your offer of 400k on the property. I will talk to you on Monday after you speak to your attorney. Vogel v. Albi, 1st Dist. Hamilton No. C-190746, 2020-Ohio-5242, ¶ 4 (alterations omitted).
At the bottom of each email from Blackmon, below her signature, included the following language contained within a bold, black box:
Any written or verbal acceptance of an offer amount as relayed by Seller's agent is contingent upon receipt by Seller's agent of the required written contract and any Seller required addenda, fully executed by both Buyer and Seller. Id. at ¶ 5.
Around the same time that Vogel and Blackmon were negotiating the purchase, another buyer submitted an offer on December 6, 2018, that included an inspection contingency. Third Street rejected that offer because it did not want a contingency deal, and on December 7, 2018, the same buyer submitted a contingency-free bid. The second offer was received after Blackmon informed Vogel that Third Bank accepted his offer. Blackmon then told Third Bank that Vogel wanted to inspect the property, which caused Third Bank to accept the other buyer's contingency-free offer. After Blackmon informed Vogel of Third Bank's acceptance, she emailed him that evening, December 7, 2018, at 5:37 p.m., to walk back her previous acceptance:
When I confirmed verbally that the seller would accept your offer of 400,000.00 as previously emailed to you . . . [y]ou and I both know that it is not done until I receive a written contract and funds from you that I can present to my seller to execute. I have had an additional verbal offer today and provided a contract to them. I would urge you to complete the contract with your highest and best as soon as possible. Id. at ¶ 8 (original alterations omitted).
On December 11, 2018, Vogel informed Blackmon that his attorney was reviewing the contract and asked about income generated by a billboard located on the property. The next day, Vogel's attorney emailed Blackmon seeking access to the property to inspect it. Blackmon responded that Third Bank accepted another offer on the property. Vogel's attorney responded that there was a verbal commitment for the purchase and that any attempt to sell the property would be met with a lawsuit. Third Bank then closed on the property with the other buyer.
The Lawsuit. Vogel sued Albi and Third Bank for breach of contract and sought injunctive relief. Vogel requested that Third Bank be enjoined from selling the property to anyone but Vogel and specific performance of the contract. Third Bank filed several counterclaims for quiet title, tortious interference with a contract and business relationship, slander of title, abuse of process, and frivolous conduct in filing civil claims. The trial court granted Vogel's motion for a temporary restraining order and the case was tried to the court. The court ruled in favor of Third Bank on Vogel's breach of contract claim and its counterclaim to quiet title. The court ruled in Vogel's favor on the remaining counterclaims. Both parties appealed to the First District.
The First District affirmed the verdict in Third Bank's favor on Vogel's breach of contract claim. "For a contract to exist, there must be a meeting of the minds between the parties, as evidenced by an offer, acceptance, and consideration." Id. at ¶ 21. The contract must also define the "subject matter, identity of the parties bound, consideration, price, and quantity" with "definiteness and certainty." Id. (internal citation omitted). Contracts for the sale of land must be in writing to satisfy the statute of frauds. Id. at ¶ 22. A written contract, however, can be established through an "email or series of emails construed together" if the correspondence demonstrates an agreement to be bound. Id. at ¶ 23. Despite Vogel and Blackmon agreeing to the subject matter (purchase of 318 W. Third St.), identity of the parties bound (Vogel and Third Bank), consideration (a promise to buy in exchange for the promise to sell), and seemingly agreed on a price ($420,000), the First District found that the record "clearly demonstrates" that the parties did not agree to be bound by the email exchange. Id. at ¶ 8, 24. So how did the First District reach this conclusion?
First, the signature in Blackmon's signature line stated that any acceptance she conveys as the sellers' agent is not binding until a written contract was executed by the buyer and seller. Even though Vogel testified that he "never read it" before litigation commenced, the court imputed knowledge of the disclaimer to Vogel. Id. at ¶ 27. The Court further noted that Blackmon referenced the execution of a formal contract twice in her email exchange with Vogel. Id. at ¶ 28. Second, Blackmon informed Vogel that he would be responsible for paying a $20,000 buyers' premium, to which Vogel responded "ok, let me know." Id. at ¶ 30. This, according to the Court, "was essentially a counteroffer" and "Vogel's response was not a definitive acceptance of that counter offer or acquiescence to a $420,000 purchase price." Id. Finally, Vogel's mention of an inspection after Blackmon informed him of Third Bank's acceptance demonstrated that there was no meeting of the minds, because Vogel did not mention an inspection prior to Blackmon's acceptance email. The First District also affirmed the trial court's verdict in favor of Vogel on Third Bank's claims of tortious interference, slander of title, and abuse of process. The elements of each claim were not germane to the First District's decision. Instead, the appellate court found that Vogel proved his defense to each of Third Bank's claims: Vogel reasonably and in good faith believed that there was an enforceable contract for him to purchase the property. Id. at ¶ 40, 44, 48.
At the end of the day, Third Bank was able to sell its property to the other buyer that properly executed the written contract, and Vogel did not owe any money to Third Bank for the counterclaims filed against him. Yet it is difficult to reconcile the First District's conclusions on the parties' respective appeals. On the one hand, Third Bank wins on the breach of contract claim because the record "clearly demonstrate[d]" that no contract had been formed. Id. at ¶ 24. On the other hand, Vogel wins on Third Bank's counterclaims because he reasonably believed that a valid contract existed, despite Blackmon's disclaimer, his failure to accept the purchase price counteroffer, and Vogel's previously undisclosed inspection contingency.
Key Takeaways. First, those who negotiate contracts via email may benefit from a disclaimer in the signature line. The Court indicated that a significant factor weighing against an agreement to be bound by the email correspondence was Blackmon's disclaimer in her signature line. The work from home movement will likely continue beyond COVID-19 restrictions, which means more contracts will be negotiated via email instead of the conference room. Email disclaimers could help prevent a miscommunication from turning into years-long litigation, especially when online negotiations span several days and lack the interpersonal cues that clarify a person's intended meaning. Second, words matter in contract negotiations. Vogel's "ok, let me know" response was not an express acceptance according to the First District. If Vogel wanted to accept the offer, he should have been more explicit. While a quick email response sent from a cell phone is more convenient, it is no substitute for express communication when negotiating contracts.