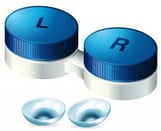 As I said I would at the end of my blog last month, "FTC's Antitrust Complaint Against 1-800 Contacts -- Clear or Blurred Vision of Antitrust Scrutiny of Settlement Agreements Entered to Protect Trademarks in Advertising", I have an update on the appeal briefing in this matter. The FTC's Complaint Counsel filed its Answering Brief to 1-800 Contacts' appeal of the Initial Decision of the Chief Administrative Law Judge, which found in favor of the FTC on its antitrust complaint of 1-800 Contacts' settlement agreements with numerous competitors that prohibited competitors from bidding on 1-800 Contacts' trademark terms in search advertising on the Internet and that also required competitors to employ "negative keywords" directing search engines not to display the competitors' advertisements in response to any search inquiry that included 1-800 Contacts' trademarks.
In its Answering Brief, the FTC's Complaint Counsel argued that Initial Decision should be affirmed as is, but in the alternative, to affirm on other grounds including "that the Challenged Agreements are inherently suspect" (per se illegal); and "that the settling parties [not just 1-800 Contacts] collectively have power in the relevant market [which is just online contact lens sales]." Answering Brief, pp. 4-5. Complaint Counsel also asked for "findings affirming the anticompetitive effect of the Challenged Agreements on search engines (separate from the anticompetitive effect on consumers of contact lenses)." Id. at 5. In addition, Complaint Counsel has requested that the Commission modify the consent order to prohibit 1-800 Contacts from entering into similar settlement agreements or obtaining court orders approving agreements with terms similar to the Challenged Agreements unless it is done "at the conclusion of a contested litigation." Answering Brief, pp. 5, 47-50; Appendix B (proposed red-line changes to consent order), pp. 3-4.
Some interesting takeaways in the Answering Brief include Complaint Counsel
admitting that "online sale of contact lenses accounts for about 17 percent of all contact lens sales in the United States" (Answering Brief, p. 6) yet contending that online sales of contact lenses is the appropriate market
recognizing that "1-800 [Contacts] was quite concerned about competitors advertising against its trademarks" (Answering Brief, p. 8)
stating that it does not need to establish market power because the agreements are or should be treated as "inherently suspect" (Answering Brief, 27), but in any event, if one looks at the total sales of all of the parties involved in the Challenged Agreements -- not just 1-800 Contacts -- the entire group makes up 79% of online sales (Complaint Counsel does not contest that 1-800 Contacts accounts for only 10% of all contact lens sales in the United States)
asserting that the Challenged Agreements are per se illegal because they constitute "'big-rigging'" and thus "are a form of price-fixing" (Answering Brief, pp. 35-36) and
arguing that the Commission should find that there was harm to search engines because a reduction in the number of businesses bidding on advertising auctions reduces the amount of money that the search engines can make (and diminishes the quality of search engine product) (Answering Brief, p. 36).
With respect to 1-800 Contacts' argument that the Challenged Agreements are settlement agreements entered to protect trademark rights and should not be subject to antitrust scrutiny, Complaint Counsel disagreed, arguing that trademark rights do not justify the agreements because, according to Complaint Counsel, the caselaw does not support 1-800 Contacts' position and because 1-800 Contacts "failed to identify a single other agreement in which all three of the salient characteristics of the Challenged Agreements were present." Answering Brief, pp. 40-42 (emphasis omitted). (Three salient characteristics were (1) a rival cannot bid on the trademarks even if consumers would not be confused, (2) a rival has to designate negative key words, and (3) the terms are reciprocal. Answering Brief, pp. 39-40).
1-800 Contacts gets to file a Reply Brief. Stay tuned . . . .