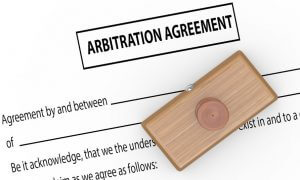 In keeping with the Supreme Court's holding in Epic Systems Corp. v. Lewis, 138 S. Ct. 1612 (2018), the Sixth Circuit has rejected a challenge to individual arbitration agreements in a Fair Labor Standards Act (FLSA) case. In Gaffers v. Kelly Services., Inc., handed down on August 15, 2018, the Sixth Circuit held that individual arbitration agreements were not made unenforceable by the FLSA, thus disqualifying a number of potential plaintiffs. No. 16-2210, slip op. at 2 (6th Cir. Aug. 15, 2018). This decision also marks a further extension of the Epic decision, which held the National Labor Relations Act does not prevent the enforcement of individual arbitration agreements. 138 S. Ct. at 1619.
Kelly Services, Inc. is an outsourcing and consulting company that includes among its services, "'virtual'" call center support. Gaffers, No. 16-2210, slip op. at 2. The virtual call center allowed employees, like Johnathan Gaffers, to work from home. Id. Gaffers brought suit on behalf of himself and his fellow employees (over 1,600 at the time of the Sixth Circuit's decision) for back pay and liquidated damages under the collective-action provision of the FLSA. Id. Gaffers claim is that Kelly Services did not compensate employees for time spent logging into and out of the network, and fixing technical problems. Id.
Approximately, half of the employees that joined Gaffers' lawsuit, signed arbitration agreements with Kelly Services that provided arbitration as the only forum for settling their employment claims. Id. Kelly Services moved to compel individual arbitration under the Federal Arbitration Act (FAA), which the lower court denied. Id.
The Sixth Circuit relied on Epic to dismiss both Gaffers NLRA and FLSA claims. The Court pointed to the holding in Epic and reiterated that the only way a federal statute could displace the FAA was through "'clear and manifest' congressional intent." Id. at 3 (quoting Epic Sys. Corp., 138 S. Ct. at 1624). The Court further held that Congress must expressly state that arbitration agreements are not an obstacle to collective action, rather than merely providing for a right to engage in collective action. Id. (citing Epic Sys. Corp., at 1626-27). The Court held that the FLSA provision in question merely provided Gaffers the right to sue collectively on behalf of his fellow employees, but did not require employees to vindicate their rights through collective action. Id.
Gaffers alternatively argued that even if FLSA does not displace the FAA, the savings clause of the FAA allows the Court to refuse to enforce the arbitration agreements. Id. at 4. The savings clause covers defenses that would apply to any contract, but does not permit defenses that simply attack agreements that provide for arbitration. Id. at 5. Therefore, "defenses that (1) apply only to arbitration agreements, or (2) interfere with the 'fundamental attributes of arbitration' are both insufficient." Id. (quoting Epic Sys. Corp., 138 S. Ct. at 1622). The Court held that the Gaffers' argument fell squarely in the latter form of defenses and was insufficient under Epic. Id.
This case follows the Epic precedent closely and further limits employee's ability to escape arbitration clauses in employment agreements. The decision also gives employers the ability to drastically reduce the plaintiff pool by compelling individual arbitration, just as Kelly Services did in this case. Moreover, Gaffers, provides employers with further incentive to include arbitration clauses in their employment agreements. Employers, when creating and negotiating employment agreements, will still need to be sure to abide by the basic rules of contract formation in order to avoid the contractual defenses that are preserved in the savings clause of the FAA. Otherwise, the Court has clearly shown that absent a "clear and manifest" statement from Congress, it will not strike down arbitration clauses for plaintiffs looking to act collectively. This continuing precedent gives employers all the more reason to include arbitration clauses as a means of protecting themselves from collectively organized plaintiffs in the future.