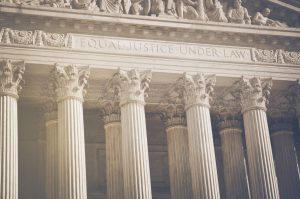 The Supreme Court soon may make it easier for counterclaim defendants to remove a case to federal court. The Supreme Court granted a writ of certiorari in Home Depot U.S.A., Inc. v. Jackson, No. 17-1471, which asks the Court whether its holding in Shamrock Oil & Gas Corp. v. Sheets, 313 U.S. 100 (1941), that an original plaintiff may not remove a counterclaim against it, extends to third-party counterclaim defendants. A ruling in favor of Home Depot in this case would increase access to federal courts for parties brought into cases as third-party counterclaim defendants.
This case began as a debt-collection action filed by Citibank against Jackson. Petition for Writ of Certiorari ("Petition"), p. 5. Jackson asserted a class-action counterclaim against Citibank, Carolina Water Systems, Inc. ("CWS"), and Home Depot for unfair and deceptive trade practices. Id. at 6. The crux of Jackson's counter-claim was that CWS and Home Depot misled Jackson about the water-treatment system he had bought using the Citibank card that was the subject of the original debt collection action. Id. Jackson alleged that Home Depot "'directly sold or assigned the transaction to Citibank.'" Id. Citibank subsequently dismissed the claim against Jackson without prejudice. Id.
After Citibank dismissed its action against Jackson, Home Depot sought to remove the case under the Class Action Fairness Act of 2005 ("CAFA") because the only remaining controversy was Jackson's class action. Id. Jackson later filed a motion to remand and amended his complaint to remove any reference to Citibank, meaning the only remaining case was the class action against Home Depot and CWS. Id. The district court remanded the case because Home Depot was not an original defendant and, therefore, was not entitled to remove the case. Id. at 7. The Fourth Circuit affirmed the trial court order. Id. at 7-8.
Congress enacted CAFA to remedy abuses of the class-action system at the state court level. Id. at 4. The United States Senate Report regarding CAFA noted that the state courts were applying the governing rules inconsistently and supervision of the process and settlements were inadequate. Id. The section of CAFA that Home Depot seeks to clarify states:
"A class action may be removed to a district court of the United States in accordance with section 1446 (except that the 1-year limitation under section 1446(c)(1) shall not apply), without regard to whether any defendant is a citizen of the State in which the action is brought, except that such action may be removed by any defendant without the consent of all defendants."
28 U.S.C. § 1453(b) (emphasis added). The dispute in this case comes down to the meaning of the word "any." Home Depot's essential argument is that the word "any" as used in the statute, encompasses all defendants, regardless of whether the party is an original defendant or a defendant brought in on a counterclaim, who seeks to remove the action to federal court. Jackson argues that "any" refers to a situation where there are multiple defendants and one wants to remove to federal court. That one defendant could remove without the consent of the other defendants under Jackson's reading of the statute. Respondent's Brief in Opposition ("Opposition"), p. 19.
Home Depot also argues that the circuit courts, while in agreement, have improperly construed Supreme Court precedent to narrowly define "defendant." In Shamrock Oil, the Supreme Court interpreted the removal statute, 28 U.S.C. § 1441(a), language "'by the defendant or defendants'" to exclude an original plaintiff who became a counterclaim defendant. Petition, pp. 10-11. As a result, Home Depot argues, the circuit courts have interpreted Shamrock Oil to broadly hold that only an original defendant could remove to federal court. Id. at 12. Home Depot further argues that the Court never had the opportunity to consider whether a third-party defendant would be able to remove a case. Id. at 15. Jackson also argues that where Congress elects to use language identical to that used in another statute, the new statute incorporates judicial interpretations of the identical language, thus Shamrock Oil's interpretation of "defendant" in § 1441 is incorporated into CAFA. Opposition, p. 15.
Interestingly, this is not a case of a petitioner seeking to take advantage of a circuit split; the Fourth, Sixth, Seventh, and Ninth circuits have all issued similar rulings on this issue. Rather, Petitioner Home Depot seeks to have the Supreme Court clarify its ruling in Shamrock Oil and, consequently, the language in CAFA. Respondent Jackson points out that Home Depot has tried this line of attack before and the Supreme Court denied certiorari. Opposition, p. 23.
Time will tell, but at first blush it seems unlikely that the Court would have taken this case in order to simply reaffirm the circuit courts, which are all in agreement. It also seems unlikely that the ardent textualists on the court would not jump at the opportunity to dig into what the words of the statute mean as constructed. Another interesting element is Justice Ginsburg's recent jurisprudence on gamesmanship in the court system. Home Depot clearly played to this theme, arguing the hypothetical of a cunning class-action attorney using the Shamrock Oil precedent to shackle corporations in purportedly plaintiff-friendly state courts. Petition, p. 22.
Home Depot is represented by Supreme Court appellate counsel Goldstein & Russell, which successfully argued South Dakota v. Wayfair last term. Jackson is represented by both Varnell & Warwick and the Public Citizen Litigation Group, both of these firms represent themselves as champions of open courts and access to justice.
The parties have yet to fully brief the case and the Court has not set an oral argument date, so you can look forward to updates as the Supreme Court case is briefed, argued, and decided.