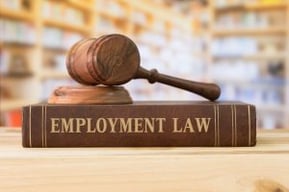 Recently, the Equal Employment Opportunity Commission ("EEOC") issued guidance aimed at helping employers comply with their responsibilities under equal employment opportunity ("EEO") laws while meeting the requirements of the ongoing pandemic. This guidance updates information originally prepared for the H1N1 outbreak, available here.
The EEOC stressed that all EEO laws continue to apply during the pandemic, but it also explained that those laws are consistent with guidelines from the CDC and other public health authorities.
With the problems posed to employers by the pandemic and necessary guidelines, the EEOC provided advice in a variety of areas, as explained in more detail below.
Americans with Disabilities Act ("ADA")
As to questions related to the Americans with Disabilities Act, the EEOC said the following:
Employers may ask employees who call in sick if they are experiencing COVID-19 symptoms, but employers must treat that information as a confidential medical record.
When screening employees entering the workplace for COVID-19 symptoms, employers may ask questions regarding any symptoms identified by the CDC, other public health authorities, and reputable medical sources. Employers should stay up to date as additional possible symptoms are identified.
Taking an employee's temperature is considered a medical examination, but employers are permitted to measure employee temperatures.
It is consistent with the ADA to require employees to stay home who are experiencing COVID-19 symptoms.
Employers may require employees who miss work due to COVID-19 symptoms to provide a doctor's note or other documentation to return to work. The EEOC cautioned, however, that medical professionals may not be able to provide comprehensive documentation, so employers should consider informal confirmation as necessary.
Confidentiality of Medical Information
The ADA requires that all medical information be stored separately from the employee's personnel file, in order to preserve the confidentiality of medical information. Information regarding COVID-19 should be treated consistently with other medical information. If employers maintain physical logs of employee temperature checks, then those logs also need to stay confidential. Employers may, however, disclose the name of an employee who has COVID-19 to a public health agency, and a staffing agency or contractor may notify an employer of information that an employee placed with that employer has or had COVID-19.
Hiring
After an employee has received a conditional job offer, the employer may screen the applicant for symptoms of COVID-19. The employer must, however, do so for all entering employees in the same type of job. This screening may include taking an applicant's temperature, which is considered a post-offer, pre-employment medical exam. If a new hire has COVID-19 or associated symptoms, the EEOC has stated that the employer may delay the start date or withdraw the employment offer, as current CDC guidance states that the individual cannot safely enter the workplace.
Reasonable Accommodation
The EEOC has received a number of questions from employers about dangers posed to employees with conditions that put them at particular risk to COVID-19. Employers have asked whether, and to what extent, they must provide accommodations to these employees, especially in the case of positions that cannot be done remotely.
When an employee needs reduced contact due to a disability, the employer may consider designating one-way aisles or using tables or other barriers to enforce social distancing. In its guidance, the EEOC emphasized the importance of flexibility in considering temporary restructuring of job duties, temporary transfers, and work schedule and shift assignment modifications.
In considering accommodations for disabilities – which include mental health conditions – employers may ask questions to: (1) determine whether the condition is a disability; (2) learn how the requested accommodation would assist the employee and enable them to keep working; (3) explore alternative accommodations; and (4) request medical documentation if needed.
Overall, the duty to provide a reasonable accommodation, absent undue hardship, continues during the pandemic. If employees were already receiving reasonable accommodations, there may be a need to consider additional or alternative accommodations. If an employee requested an accommodation and it was under consideration, then the employer should continue the process of determining whether or not to grant the accommodation – but employers may prioritize requests needed while teleworking or needed due to the pandemic. Employers may provide temporary accommodations in urgent situations, while the "interactive process" is pending. Temporary accommodations may have a set end date, or they may be for indefinite "trial" periods while the employer makes its evaluation.
Perhaps most immediately significant is the EEOC's position that the pandemic itself is relevant to whether a requested accommodation poses an undue hardship. The EEOC said that "an accommodation that would not have posed an undue hardship prior to the pandemic may pose one now."
Harassment Due to National Origin, Race, or Other Protected Characteristics
Due to the potential that fear of the COVID-19 pandemic can be misdirected, the EEOC recommends that employers explicitly communicate that it could violate EEO laws to harass coworkers based on race, national origin, color, sex, religion, age (40 or over), disability, or genetic information. The EEOC provides a number of resources, with links provided in the guidance, to help with messaging and maintaining compliance. Employers who notice problems developing among their workforce, or who want to proactively ensure that problems do not develop, should work with counsel to develop a plan of action.
Furloughs, Layoffs, and Returning to Work
EEO laws and regulations provide a number of requirements for employers offering severance packages in exchange for releases of claims. Employers offering severance agreements to employees should work with counsel to ensure that the agreements are enforceable to the full extent of the law.
As states lift restrictions and more employees return to their workplaces, employers may continue to make health-related inquiries and conduct medical exams, including temperature checks, which are consistent with business necessity. Guidance from the CDC and other public health authorities is evidence of such necessity. If employers ask about symptoms or perform medical tests such as temperature checks, then they should ensure not to engage in unlawful disparate treatment based on protected characteristics.
Moreover, employers may require employees to wear protective gear. If an employee with a disability needs an accommodation related to the protective gear – such as modified face masks for employees who use lip reading, or modified equipment due to religious garb – the employer should engage in the interactive process and provide the modification or consider a feasible alternative, if the requested modification is not an undue hardship under the ADA or Title VII.
As with any uncertainty related to employment, employers should continue to contact counsel as they consider accommodations and other actions related to the impact of COVID-19 on their workforce. As the EEOC guidance makes clear, employers are still required to comply with all related federal laws, even if the pandemic affects the overall analysis.
Employers should continue to seek up to date and accurate legal advice to make sure that they remain in compliance during these challenging times. Faruki lawyers are experienced with advising clients on compliance with EEO laws, and have been monitoring EEOC guidance as it relates to COVID-19 issues.