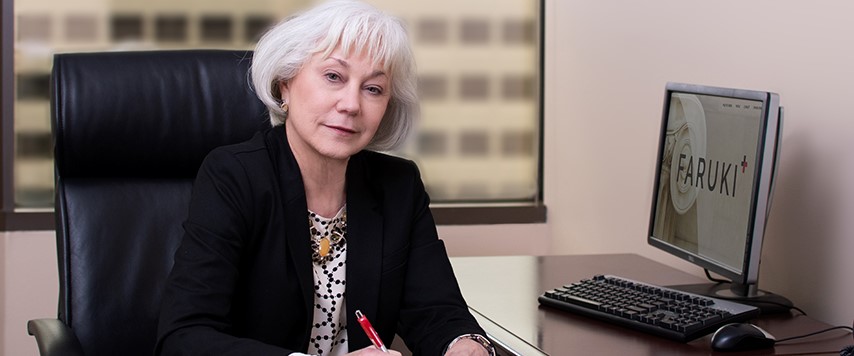 DAYTON and CINCINNATI, OH — May 26, 2022 – Faruki PLL is pleased to welcome its new Executive Director, Joan Germann.
"I believe that I have found a home here at Faruki PLL," Joan said. "Attorneys and staff have been so warm and welcoming. Faruki PLL is an outstanding firm with a storied history and an impressive record of success. I look forward to working with the team to help continue to build upon the firm's long history of success. I'm ready to start my next chapter."
Joan has extensive experience in operations and personnel management, and she will lead the firm's non-attorney support staff while overseeing technology, HR, finance, marketing, operations, and facilities functions for the firm.
"Joan's experience and skills will be important assets as we expand capabilities and continue to provide exceptional service to clients," Co-Managing Partner Erin Rhinehart said. "Joan will be a strong contributor in helping to shape and implement the firm's strategic plan and initiatives," Co-Managing Partner Brian Wright said. "We are delighted to welcome Joan to our team."
Joan is an attorney licensed to practice in the state of Ohio. Prior to joining Faruki PLL, she held a number of leadership roles including Chief Operating Officer for a local not-for-profit corporation in Cincinnati, Associate Executive Director for a metropolitan housing authority in Butler County, Ohio, and Human Resources Director for a local greater Cincinnati township. Joan is a graduate of Salmon P. Chase College of Law (Highland Heights, KY) and holds a Master of Business Administration from Xavier University (Cincinnati, OH).
About Faruki+
Faruki+ (www.ficlaw.com) is a litigation firm with offices in Dayton and Cincinnati that handles complex disputes, including intellectual property, class actions, competition-based litigation, employment, antitrust, privacy, commercial litigation, and arbitration. You can find Faruki+ on LinkedIn (https://www.linkedin.com/company/faruki-ireland-&-cox-p-l-l-/) and Twitter at @FarukiMediaLaw. Also, visit https://www.ficlaw.com/blog/ the business litigation blog site, for the latest developments in business litigation, intellectual property, data security, communications and media, class actions, and employment.