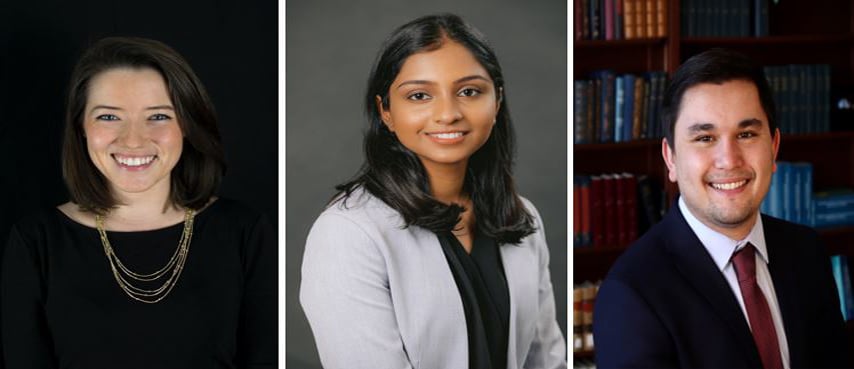 DAYTON and CINCINNATI, OH — June 7, 2022 – Faruki PLL (Faruki+) is pleased to welcome their new summer clerks, Meghan Savercool, Damini Mohan, and Terrel Benne, who are joining the firm, in both the Cincinnati and Dayton offices, for the summer 2022 term. Each will bring distinctive views and experiences along with diverse academic and professional legal work experience.
Meghan, who attends the University of Cincinnati School of Law, has spent a majority of her time in Washington, D.C. as part of the U.S. Senate, sharpening her communication skills, working with an "all hands on deck" mentality. She spent time as an Extern for the Honorable Michael J. Newman for the United States District Court for the Southern District of Ohio. Meghan graduated from Xavier University with her Bachelor of Arts, with a Major in Theology and Minors in Political Science and Gender and Diversity Studies.
"It is an honor to join Faruki this summer. I am aware of the firm's outstanding reputation and I look forward to working alongside and learning from such distinguished attorneys."
Damini joins Faruki from The Ohio State University Moritz College of Law. Damini spent time in Brussels studying European Business Law and World Trade Organization Practices, while working on her law degree in India. Damini spent time as an Extern at the Supreme Court of Ohio, ADR Division. At The Ohio State University, she was a student research assistant. She graduated with a Bachelor of Business Administration and Bachelor of Law (LLB Honors) from Alliance University in Bangalore, India.
"I am elated to have this opportunity of working as a summer associate at Faruki. I believe spending my summer at a reputed firm such as this and working with outstanding lawyers is going to be full of substantive experiences and I wouldn't trade it off for anything else. Every partner, associate, and staff that I have met so far has been welcoming, kind, and responsive."
Terrel is a student at the University of Dayton School of Law, developing strong legal research and writing skills, along with being a Staff Writer for Law Review. He spent time as an Intern at the Montgomery County Prosecutor's Office, and is also part of the Leadership Honors Program. Terrel received his Bachelor of Science in Marketing from the University of Wyoming.
"I am extremely excited to be able to work at Faruki+ this summer. I can't wait to see how much I will learn and grow as an advocate."
To learn more about Faruki+, please visit www.ficlaw.com.
About Faruki+
Faruki+ is a litigation firm with offices in Dayton and Cincinnati that handles complex disputes, including intellectual property, class actions, competition-based litigation, employment, antitrust, privacy, commercial litigation, and arbitration. You can find Faruki+ on LinkedIn and Twitter at @FarukiMediaLaw. Also, visit the business litigation blog site, for the latest developments in business litigation, intellectual property, data security, communications and media, class actions, and employment.