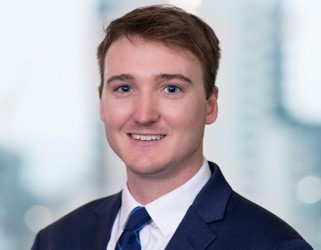 DAYTON, OH — [November 9, 2022] – Faruki PLL (Faruki+) welcomes Griffin Reyelts to the firm where he will represent clients in the firm's business litigation practice.
"I am pleased to join Faruki PLL. I look forward to working alongside some of the state's top trial attorneys in complex business litigation."
Griffin graduated from the University of Dayton School of Law. He received three CALI awards as a recognition for being the top student in those courses, and he was a member of the law school's Leadership Honors Program.
Griffin received his Bachelor of Arts from Miami University, with a Major in Business Management and Leadership, and a Minor in Entrepreneurship.
To learn more about Faruki+, please visit www.ficlaw.com.
About Faruki+
Faruki PLL is a litigation firm with offices in Dayton and Cincinnati that handles complex disputes, including intellectual property, class actions, competition-based litigation, employment, antitrust, privacy, commercial litigation, and arbitration. You can find Faruki PLL on LinkedIn Twitter at @FarukiMediaLaw. Also, visit the business litigation blog site, for the latest developments in business litigation, intellectual property, data security, communications and media, class actions, and employment.