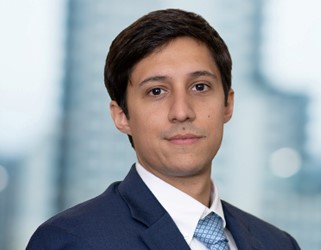 DAYTON, OH — [November 9, 2022] – Faruki PLL (Faruki+) welcomes Sergio Fernandez back to the firm where he will represent clients in the firm's business litigation practice.
"I am excited to continue my career at Faruki PLL where I have already developed an array of skills while working alongside some of Ohio's best attorneys."
Sergio clerked with Faruki+ during the summer of 2021 before graduating from the University of Dayton School of Law. He served as a Comment Editor of the Dayton Law Review and as a Teaching Assistant for the Legal Profession I & II courses. He was the Founder and President of the Immigration Law Student Association, Secretary of the Hispanic Law Student Association, and a member of the law school's Leadership Honors Program.
Sergio received his Bachelor of Arts from Florida Southern College, with a Major in Political Science and a Minor in Psychology.
To learn more about Faruki+, please visit www.ficlaw.com.
About Faruki+
Faruki PLL is a litigation firm with offices in Dayton and Cincinnati that handles complex disputes, including intellectual property, class actions, competition-based litigation, employment, antitrust, privacy, commercial litigation, and arbitration. You can find Faruki PLL on LinkedIn Twitter at @FarukiMediaLaw. Also, visit the business litigation blog site, for the latest developments in business litigation, intellectual property, data security, communications and media, class actions, and employment.