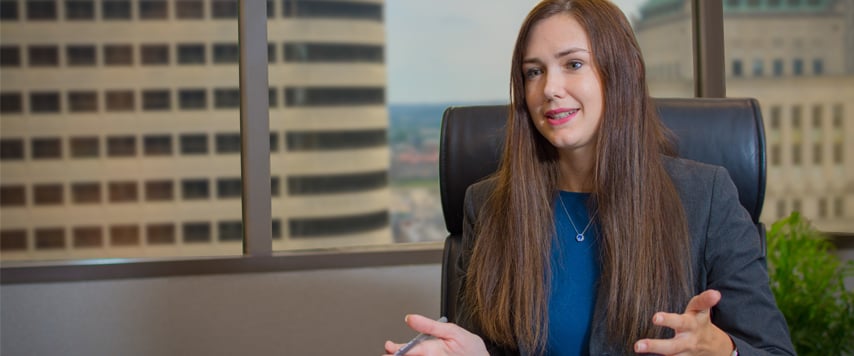 Melissa Watt, an experienced litigator in the firm's Cincinnati office, recently coached the UCLA School of Law Trial Team to a second-place finish at the All-Star National Trial Competition.
The All-Star tournament featured 34 law schools from across the country, including University of Virginia School of Law, The Ohio State University Moritz College of Law, and University of Texas School of Law - Austin. It was one of the largest trial competitions ever held and the second-largest in 2020.
Because the competition was conducted remotely, Melissa coached remotely, as well. "Once we realized all trials would be by Zoom, I knew I could reach out to potential coaches that would normally be too far away," said Justin Bernstein, a professor at UCLA Law and its director of trial advocacy. "Literally my first call was to Melissa."
UCLA's trial team is ranked number one nationally in the Trial Competition Performance Rankings. But Melissa had a challenge: her four students were all 2Ls, all brand new to trial advocacy, and only halfway through their semester of Evidence. And the competition involved a complicated RICO case. "We started with the fundamentals," Melissa said. "Asking good questions. Avoiding objections. Sticking to our theory."
The strong coaching paid off. Melissa's team went undefeated in the preliminary rounds and won its quarterfinal and semifinal trials to reach the championship round against University of Miami School of Law. With five scoring judges, Melissa's team was one point on one ballot from taking home the first place prize. Three of her four students won individual recognition for their courtroom performances.
"Melissa was amazing," said Pauline Alarcon, the 2L who was named Best Advocate in the championship round. "She wasn't just a coach. She was a mentor. I learned so much from her."
This is not Melissa's first success in trial advocacy competitions. Melissa is the only person in the history of the American Mock Trial Association ("AMTA") to coach three different colleges to the national championship tournament. She now serves on the board of directors and the executive committee for AMTA, a nonprofit that governs intercollegiate mock trial.