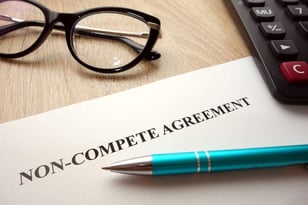 Non-compete agreements are a powerful tool for businesses to protect their interests when employment relationships end. Although their treatment varies from state to state, Ohio courts will enforce such agreements when they are "reasonable."[1] A non-compete agreement is reasonable when its restrictions (1) are no greater than necessary to protect the business, (2) do not impose undue hardship on the employee, and (3) do not injure the public.[2] Ohio courts consider various factors when applying that test, as discussed more in depth here.
When non-compete agreements are breached, businesses can face a sudden risk of significant harm (e.g., from disclosure of trade secrets or other confidential business and customer information). Ohio courts will, thus, entertain requests for preliminary injunctions to compel compliance with such agreements before trial to preserve the status quo until judgment can be reached. To issue a preliminary injunction, courts consider (1) whether the employer has a strong likelihood of success on the merits; (2) whether the employer would suffer irreparable injury absent the injunction, (3) whether the injunction would cause substantial harm to others, and (4) whether the public interest would be served.[3]
Whether a preliminary injunction is proper to enforce a non-compete agreement is inherently fact specific; however, a few recent Ohio cases illustrate how courts apply those factors in actual controversies.
First, in Union Home Mortg. Corp. v. Cromer, an Ohio federal court granted a preliminary injunction to enforce a non-compete agreement between a mortgage company and a loan officer after the loan officer was accused of sending confidential customer information to a competitor he later joined.[4] In the non-compete agreement, the loan officer agreed that he would not be employed in a similar capacity by a competitor inside a 100-mile radius of his office for three-and-a-half years from executing the agreement.[5] After considering deposition testimony about his alleged misappropriation of trade secrets, the court found that the mortgage company was likely to prevail on the merits and would suffer irreparable harm absent immediate injunctive relief.[6] The court further recognized that under Ohio law, "preserving the sanctity of contractual relations and preventing unfair competition have traditionally been in the public interest."[7] Thus, the court ordered the loan officer not to compete with Union Home Mortgage within 100 miles of his former office and not to use or disclose plaintiff's trade secrets for his or new employer's competitive benefit.[8]
Second, in Concentrix CVG Customer Mgmt. Group v. Daoust, another Ohio federal court declined to issue a preliminary injunction to enforce a one-year, worldwide non-compete agreement between Concentrix and its former Senior Vice President for Operations, who had managed call centers in the Philippines before joining an alleged competitor as Chief Operations Officer with global responsibilities.[9] After weighing conflicting declarations and documentary evidence, the court concluded that Concentrix was unlikely to succeed on the merits because the agreement was unreasonable.[10] Although the court found that the duration and geographic scope were reasonable, it further found that other factors weighed against enforcement, at least at a preliminary stage.[11] Specifically, the court determined that the employee was not customer facing, that he would forego an opportunity to advance his career, that his knowledge about call-center operations was not confidential, and that by seeking to enjoin him from taking a company-wide role (as opposed to the targeted job he left), Concentrix was attempting to restrict ordinary competition, rather than unfair competition.[12] The court also found that any harm to Concentrix was speculative, and that while preventing unfair competition is in the public interest, so too is "not restricting employment opportunities for employees."[13]
Third, in Lykins Oil Co. v. Corbin, an Ohio appellate court addressed when courts can modify preliminary injunctions that enforce non-compete agreements.[14] In that case, a wholesaler and distributor of gasoline, diesel fuel, and other petroleum products entered a non-compete agreement with a sales representative.[15] After Lykins Oil terminated that relationship, the sales representative joined a competitor.[16] The company sued to enforce the agreement, and the parties entered an Agreed Preliminary Injunction.[17]
When the COVID-19 pandemic hit, however, the sales representative moved to modify the Agreed Preliminary Injunction to allow him to work in additional locations, which the trial court granted after finding that the injunction was "exceedingly broad and over [sic] burdensome."[18] On appeal, the Twelfth District Court of Appeals explained that trial courts have "inherent authority to modify or vacate its own injunctive decree," and they "must never ignore significant changes in the law or circumstances underlying an injunction lest it becomes inequitable that the injunction should have prospective application."[19] However, any change must be supported by evidence of a change in circumstances, even if the parties stipulate to the terms of the initial injunctive order.[20] The appellate court reversed because the trial court expressly found that it could not "weigh the facts to determine whether a change in circumstances exists" since the parties agreed to the initial injunction; instead, the trial court merely relied on the equity of that injunction.[21] The case was, therefore, remanded for the trial court to consider any evidence of a change in circumstances justifying a modification.[22]
Thus, it is important for businesses forming and seeking to enforce non-compete agreements to understand that while they are a powerful tool to mitigate harm and to deter unfair competition in the first place, they must be reasonable and supported by evidence, both to obtain injunctive relief and to modify such relief when circumstances permit.
____________________________
[1] Raimonde v. Van Vlerah, 42 Ohio St.2d 21, 25, 325 N.E.2d 544 (1975).
[2] Id. at paragraph two of the syllabus.
[3] Memphis A. Philip Randolph Inst. v. Hargett, 978 F.3d 378, 385 (6th Cir. 2020) (citation omitted). Accord: Fed. R. Civ. P. 65; Ohio Civ.R. 65.
[4] N.D. Ohio No. 4:21CV0385, 2021 U.S.Dist. LEXIS 78135 (Apr. 23, 2021).
[5] Id. at *4-5.
[6] Id. at *17-19.
[7] Id. at *20 (quoting Century Bus. Servs., Inc. v. Urban, 179 Ohio App.3d 111, 2008-Ohio-5744, 900 N.E.2d 1048, ¶ 17).
[8] Id. at *20.
[9] S.D. Ohio No. 1:21-cv-131, 2021 U.S. Dist. LEXIS 83830 (May 3, 2021).
[10] Id. at *27-28.
[11] Id.
[12] Id. at *27-34.
[13] Id. at *44 (quoting Convergys Corp. v. Wellman, S.D. Ohio No. 1:07-CV-509, 2007 U.S. Dist. LEXIS 90729, at *27 (Nov. 30, 2007).
[14] 12th Dist. Clermont No. CA2020-07-036, 2021-Ohio-1126.
[15] Id. at ¶¶ 2-4.
[16] Id. at ¶ 5.
[17] Id. at ¶ 6.
[18] Id. at ¶¶ 7, 34.
[19] Id. at ¶ 27 (quoting Cleveland v. Ohio Dep't of Mental Health, 84 Ohio App.3d 769, 773, 618 N.E.2d 244 (10th Dist. 1992).
[20] Id. at ¶ 31.
[21] Id. at ¶ 32.
[22] Id. at ¶ 49.