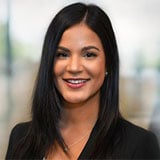 CINCINNATI, OH — [November 8, 2020] – Faruki PLL (Faruki+) is pleased to welcome Raika Casey back to the firm, continuing to practice in the Cincinnati office. Raika will represent clients facing a variety of complex commercial litigation issues and business disputes.
Raika clerked with the firm in both 2019 and 2020. She resides in Cincinnati and brings a diverse scope of legal experience to the firm.
"I joined the practice of law to serve my community." said Casey. "I could not be happier to be joining Faruki+, a firm known for service and excellence, and to have the opportunity to learn from some of the most distinguished and respected litigators. As a Faruki+ attorney, I look forward to fiercely advocating for clients as they navigate unique, complex issues and delivering excellent results."
Raika graduated with her Juris Doctor from the from the University of Cincinnati College of Law in May 2021. At the University Cincinnati College of Law, she served as President of the law school's Federal Bar Association chapter, the President of the Trial Advocacy Team, and as the treasurer for the Asian-Pacific American Law Student Association. In addition to her previous summers at Faruki+, she worked as a law clerk for the United States Attorneys' Office for the Southern District of Ohio, and as an extern for the Honorable Michael R. Barrett for the United States District Court for the Southern District of Ohio. She also participated in the Entrepreneurship & Community Development Clinic where she represented local small business owners and aspiring entrepreneurs on transactional legal issues critical to their success.
Raika graduated from the University of Dayton with her Bachelor of Arts in Political Science and Criminal Justice studies in 2017.
To learn more about Faruki+, please visit www.ficlaw.com.
About Faruki PLL
Faruki+ (www.ficlaw.com) is a litigation firm with offices in Dayton and Cincinnati that handles complex disputes, including intellectual property, class actions, competition-based litigation, employment, antitrust, privacy, commercial litigation, and arbitration. You can find Faruki+ on LinkedIn and Twitter at @FarukiMediaLaw. Also, visit the business litigation blog site, for the latest developments in business litigation, intellectual property, data security, communications and media, class actions, and employment.