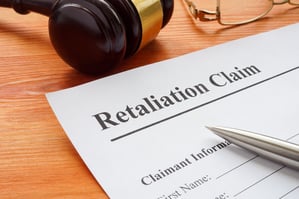 Continuing the Faruki PLL blog series relating to combatting the risks of departing employees, this post addresses a potential issue for employers after an involuntary termination: claims for retaliation. In Ohio, retaliation occurs when an employer takes an adverse employment action against an employee due to that employee's involvement in a protected activity. For purposes of retaliation, those adverse employment actions can include termination, demotion, negative evaluations, disproportional discipline for an infraction, negative comments, or decrease in pay.

Protected Activity
To succeed on a claim for retaliation, an employee must first establish that she was engaged in a protected activity and that the employer was aware. A protected activity is any (1) opposition to an unlawful discriminatory action by the employer or (2) participation in any investigation, proceeding, or hearing relating to a claim of discriminatory actions against the employer.
Importantly, once an employer shows that she engaged in a protected activity, she must also show that her employer was aware of her participation. Failure to establish an employer's knowledge is fatal to the employee's retaliation claim.
Adverse Employment Action
An employee must then demonstrate that the employer took an adverse employment action against her because of her participation in the protected activity. Adverse employment actions are broadly interpreted and can include a variety of negative consequences ranging from negative remarks to demotion to termination. To prevail, an employee must also establish that the employer's retaliatory reasoning was a determinative factor in the adverse employment action, and not just a motivating factor.
Ohio's Burden-Shifting Framework
Unless the employee possesses direct evidence of retaliation, Ohio applies a burden-shifting framework: first the employee must demonstrate retaliation, then the burden shifts to the employer to provide a legitimate, nondiscriminatory reason for its actions. If the employer succeeds, the employee must then establish both that (1) the legitimate, nondiscriminatory reason provided was false, and (2) unlawful retaliation was the actual reason for the employer's actions.
Documentation and Training
Employers should take care to educate management and supervisory staff on how to proceed when they are advised – by the employee or someone else – that an employee has engaged in one of the protected activities described above. Employee handbooks and company policies should outline procedures required for employees to communicate complaints, and management and supervisory staff should be regularly trained on the necessary steps when they receive a complaint. As mentioned in our previous post, consistently applying policies and proper documentation can be key.
Retaliation claims can contain additional complexities and nuances. For example, it is unlawful for an employer to retaliate against an employee for filing a workers' compensation claim or attempting to file one. Retaliation claims can also involve more complex set of facts, such as a "cat's paw" theory where an employer is liable for the actions of a decisionmaker that was influenced or manipulated by a subordinate who intends the adverse action for discriminatory actions.
Check back soon for more information about this and other employment and involuntary termination topics as we continue our series on combatting the risk of departing employees.