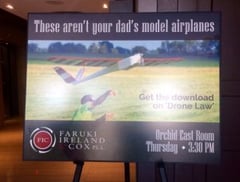 Earlier this month, Faruki Ireland & Cox P.L.L. attorneys attended the Federal Bar Association National Convention in Cleveland, Ohio. During the convention, severalFarukiattorneys participated in panels discussing many contemporary topics in the legal profession. Specifically, FIC attorneys discussed nascent legal issues in appellate litigation, drone laws and regulations, and media law.
Charlie Faruki participated in a panel discussing "The Present and Future of Federal Appellate Litigation." Charlie drew from his years of trial and appellate experience to identify trends in how appellate courts will deal with expert issues twenty years after Daubert, the rise of appeals based on dispositive motions, appeals of criminal sentences, appeals from administrative agencies, and the future of oral argument. Specifically, Charlie identified innovations in technology as examples of how appellate advocacy is evolving. Charlie discussed how attorneys can utilize hyperlinks in briefs, and how courtroom digital communication technology allows for improved efficiency. Charlie also discussed how alternative dispute resolution methods, such as arbitration and mediation, have transformed the appellate strategies. Charlie predicted that attorneys will need to continue adapting to emerging technologies and processes at all stages of litigation.
Jeff Cox moderated a panel entitled "Drones: the Perfect Storm. The Intersection of Security, Privacy, and First Amendment Issues in the Age of Unmanned Aerial Vehicles." The panel included FIC's Scot Ganow, and representatives from the Federal Aviation Administration and academia. The panel began by discussing the technological components and functional capabilities of drones, and then analyzed the current FAA regulations and pending state legislation relating to unmanned aerial vehicle ("UAV") use. Scot Ganow focused his remarks on the privacy and Fourth Amendment concerns surrounding UAVs. Specifically, Scot explained that, regardless of pending legislation specific to UAVs, litigants can find guidance on how to navigate UAV legal issues through existing constitutional frameworks and tort law.
Erin Rhinehart participated in a panel entitled "The Freedom of Information Act at 50." Joined by representatives from academia and journalism, Erin provided an overview of FOIA after fifty years of legislation and litigation. Erin addressed topics related to all stages of FOIA – from the initial request to litigation. Erin drew upon her experiences in commercial litigation and media law to provide practical insight on what FOIA requesters should expect when making a formal request. Specifically, Erin recommended that requesters pay close attention to regulatory guidance on what each particular agency requires from a FOIA request. Erin also recommended developing relationships with government agencies to help them assist you in making your request. Finally, Erin provided an update on how recent FOIA litigation indicates that FOIA requesters have more avenues from which to make a request due to increased use in technology.
FIC is a proud supporter of the Federal Bar Association, and many of its attorneys serve in positions of leadership in both the Dayton and Cincinnati chapters.