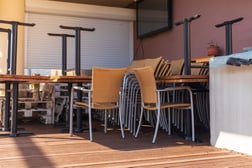 During the early stages of the pandemic, shelter-in-place orders wreaked havoc on the food and beverage industry because people could no longer "dine out." Restaurants that relied heavily on dine-in customers struggled to transition into a takeout-only business model and lost significant revenue. The hospitality industry similarly suffered when personal and professional travel came to an abrupt halt. These restaurants and hotels were effectively shut down by the shelter-in-place orders throughout the country, and many turned to their insurance policies to recoup lost revenue. When the insurers denied coverage, service and hospitality businesses filed lawsuits throughout the country to recover under their respective policies for lost revenue caused by the shelter-in-place orders.
As we approach the one-year anniversary of the shelter-in-place orders giving rise to COVID-19 business insurance litigation, conflicting Ohio federal court decisions have made Ohio litigants' chance of success consistent with the term that defined 2020, uncertain. The conflict – in both interpreting direct-loss policy language and applying Ohio caselaw – is evidenced by two recent decisions from the Northern District of Ohio. In Henderson Road Restaurant Systems, Inc. v. Zurich American Ins. Co., No. 1:20-cv-1239 (N.D. Ohio Jan. 19, 2021), the court required the insurance company to cover Henderson Road's COVID-related losses caused by government shutdown orders. A month later, the court in Ceres Enterprises, LLC v. Travelers Ins. Co., No. 1:20-cv-1925 (N.D. Ohio Feb. 18, 2021), dismissed Ceres' insurance claim brought against its insurer for losses caused by government orders. These cases involved the same set of facts, the same controlling policy language, and applied similar Ohio caselaw, yet reached opposite results. Here's why:
The Decisions Disputed Whether "Physical Loss of or Damage to" Property is Ambiguous
In both cases, the insured's right to coverage under its existing policy depended on whether it could show a "physical loss of or damage to" the insured property. Henderson Road at p. 18; Ceres at p. 8.
In Henderson Road, the court found that the policy language was ambiguous because it could be interpreted two ways: physical damage to the property or physical loss of the property. Henderson Road at p.18. Applying Ohio contract interpretation law, the court construed the ambiguous policy provision against the insurance company. Id. at p. 22. Since the shelter-in-place orders prevented Henderson Road's properties from being used for their primary purposes (dine-in restaurants), the policy was construed to cover the loss of the property caused by the government orders. Id. at p. 18.
Interpreting the same language, Ceres seemingly reached the opposite conclusion. Ceres held the phrase "physical loss of or damage to" property unambiguously means "material, perceptible destruction [of the property] or deprivation of possession." Ceres at p.11. The court also emphasized that a contract is not ambiguous merely because the parties disagree over its meaning. Id. at p. 19. Applying the unambiguous provision, the court concluded that the virus did not "work any perceptible harm to the properties, even if . . . the virus may be found on surfaces there." Id. at p. 11.
In dismissing the insured's complaint, Ceres expressly rejected the Henderson Road decision. Ceres was "not persuaded by the reasoning in Henderson Road" and disagreed "that the policy language at issue [was] ambiguous." Ceres at p. 26. It further criticized Henderson Road's reading as creating a host of practical and legal problems. For example, when the restaurant is covered under its policy for a COVID-related shutdown and also receives state or federal COVID relief, an issue arises whether the insured receives a double recovery, or the insurer receives a subrogation interest. Id. Henderson Road acknowledged this concern but still ruled in the insured's favor; according to Ceres, this circumstance unjustifiably opened the door to "potential follow-on issues and disputes," which should have weighed against interpreting the policy language in the insured's favor. See Ceres at p. 26.
The Decisions Agreed that Policy Language Should Control Over Caselaw
One point of agreement between Ceres and Henderson Road was that the policy's language, not persuasive authority, should control whether the policy extends to a COVID-related insurance claim. Henderson Road at p. 22; Ceres at p. 27. To date, the majority of COVID-related business insurance litigation has been resolved in the insurance company's favor, but, at least in Ohio federal courts, policy language trumps persuasive authority.
The Decisions Bolstered the Conflict in Ohio Interpretation
Ceres and Henderson Road demonstrate a split between how Ohio courts interpret the same or similar language regarding direct physical loss triggered by COVID-related closure orders. One line of cases, demonstrated in Ceres, represents the majority view that losses attributable to shelter-in-place orders do not constitute direct physical harm to an insured's property. Henderson Road deviated from this line of cases by demonstrating a willingness to find ambiguity in policy language unless such language expressly precludes recovery.
Although it is a very recent decision, Henderson Road is finding support in Ohio's state courts. Relying on Henderson Road, the Stark County, Ohio Court of Common Pleas construed the language "physical loss of or damage to" the insured property against the insurance company because it was ambiguous. McKinley Dev. Leasing Co. v. Westfield Ins. Co., Stark C.P. No. 2020-cv-00815 (Feb. 9, 2021).
To date, no Ohio appellate court has determined whether the pandemic's shutdown orders could be considered a direct physical loss for purposes of business insurance policies. Recently, the Northern District of Ohio certified a question to the Supreme Court of Ohio that is similar to the dispositive issue in Ceres and Henderson Road. The certified question states as follows:
Does the presence in the community, or on surfaces at a premises, of the novel coronavirus . . . constitute direct physical loss or damage to property; or does the presence on a premises of a person infected with COVID-19 constitute direct physical loss or damage to property at that premises?
Neuro-Communication Servs, Inc. v. Cincinnati Ins. Co., No. 4:20-cv-01275, p. 2 (N.D. Ohio Jan. 19, 2021).
The Supreme Court of Ohio has yet to decide this certified question. Given the numerous cases throughout Ohio's state and federal courts, however, there remains a risk of inconsistent rulings under Ohio law unless and until Ohio's highest court weighs in on the issue.