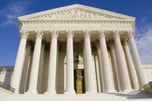 For IP litigators, a question often arises about the proper venue for a patent dispute. Often that inquiry comes from a client calling to say, "why were we just sued for patent infringement in the Eastern District of Texas?" The answer to that question is both simple and complex. (See also my colleague Don Burton's excellent March 31, 2016 blog entry Will the Federal Circuit (or Congress) Contain the Gusher of Patent Litigation in East Texas? at https://www.ficlaw.com/intellectual-property/archives/will-the-federal-circuit-or-congress-contain-the-gusher-of-patent-litigation-in-east-texas/).
Among the many cases the U.S. Supreme Court has granted review for early 2017 argument and consideration is one that will take a fresh look at what constitutes proper venue in a patent dispute. As reported by SCOTUSblog (Amy Howe, Justices grant review in four new cases, SCOTUSblog (Dec. 14, 2016, 5:54 PM), http://www.scotusblog.com/2016/12/justices-grant-review-in-four-new-cases/), the question before the Court "is whether a change to the general federal statute governing venue for cases against corporations affects the venue rule in patent cases." The case taken up by the Supreme Court, TC Heartland, LLC v. Kraft Food Brands Group, LLC, Case No. 16-341, has drawn extensive interest among amicus curiae ranging from tech and financial trade groups, to academics, retired jurists and the Internet business community.
The patent venue statute, 28 U.S.C. § 1400(b) states that patent infringement actions "may be brought in the judicial district where the defendant resides. . . ." Matters grow more complicated, however, because 28 U.S.C. § 1391, the general venue statute, at subsection (c) has long provided that a corporate entity may be deemed to reside in multiple judicial districts under certain circumstances. TC Heartland was sued for patent infringement in Delaware, but TC Heartland, operating and organized in Indiana, argued it did not "reside" in Delaware and should not be subject to suit there. The Court of Appeals for the Federal Circuit, however, took the opposite, broader view, that TC Heartland was subject to suit pursuant to the federal corporate venue provisions because the Delaware federal court had personal jurisdiction over TC Heartland because it conducted business in Delaware.
The CAFC's interpretation of this venue question seemingly conflicts with 60-year old U.S. Supreme Court precedent in Fourco Glass co. v. Transmirra Products Corp., 353 U.S. 222 (1957). Fourco held that § 1400(b) is not supplemented by § 1391(c), and the defendant's residence requirement in § 1400(b) "means the state of incorporation only." Fourco, at 226. The CAFC considered congressional action in 2011 as further expanding the scope of corporate residence for general venue considerations under § 1391(c), defining proper venue over a corporation "[f]or purposes of venue under this chapter," thus subsuming § 1400(b) and arguably diminishing the controlling nature of Fourco.
In its brief opposing certiorari, Respondent Kraft Foods acknowledges the existence of widespread patent venue shopping, but embraces the CAFC's expansive view of § 1391(c) in patent cases (expressed first in VE Holding Corp. v. Johnson Gas Appliance Co., 917 F.2d 1574 (Fed. Cir. 1990)) and places the responsibility for any reform efforts with Congress: "In 2011, Congress broadened the reach of 1391(c) by making it apply '[f]or all venue purposes,.' In holding that § 1391(c) informs the meaning of 'resides' in § 1400(b), the Federal Circuit has simply enforced the plain and unambiguous statutory text." Respondent's Brief in Opposition, at 1.
Among the many amicus curiae, one amici of note is Paul Michel, retired Chief Judge of the CAFC who wrote in support of certiorari and the need for reconsideration of venue law as it applies to patent disputes. Judge Michel took exception to the CAFC's statutory interpretation for its "numerous practical negative consequences" and the practical and economic impact it has on corporate defendants forced to litigate in far-flung jurisdictions. Brief of Amicus Curiae Paul R. Michel in Support of Petitioner, at 1-2. As Judge Michel noted, "[t]he practical effect of a decision in this case is enormous because it will control how patent infringement suits -- nearly 5,000 every year -- are distributed in district courts around the country." Id. at 3.
Which way the presently-constituted Court will go to clarify this question of venue for patent claims is difficult to predict, but regardless of its decision, resolving the conflict between current CAFC interpretation and the Fourco precedent, will provide patent litigants with greater clarity regarding where they may prosecute (or be forced to defend) infringement cases. Given the expanding pace of patent litigation, this case is worth watching. Should the Supremes disagree with their brothers and sisters on the Federal Circuit, the patent infringement litigation landscape, now most bountiful in but a few federal judicial districts, will become much more national in scope. Certainly, some judicial districts will welcome such cases to their dockets, but many district court officers may be seeing patent disputes for the first time in a long while, if they have had occasion to deal with one at all.