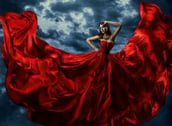 Remember the pre-internet, pre-Google days of counterfeit products? When street vendors peddled Caca-Cola sunglasses (only one vowel away from the Real Thing!) and a Burberry purse with the plaid only slightly askew? Gone are those days of yesteryear. American industries now lose approximately $200 billion in revenues annually due to counterfeit goods. Sowder, Arlee, The Harmful Effects of Counterfeit Goods (2013), http://www.athens.edu/business-journal/spring-2013/asowder-couterfeit/.
The world post-internet is increasingly hostile to high end retailers whose customers are directed to counterfeit sites via the misuse of the retailer's trademarks.
Such is the case of Teri Jon Sports, Inc., ("Teri Jon") a New York-based luxury fashion designer and manufacturer of high end women's apparel. Teri Jon evening gowns average $600.00 to upwards of $1000.00. The designs are sold on the company's website as well as high end retailers such as Saks Fifth Avenue, Bergdorf Goodman, Lord & Taylor and Neiman Marcus.
In May 2017, the corporation filed a complaint in part under the Trademark Act of 1946, 15 U.S.C. § 1051, et seq. (the "Lanham Act"). Teri Jon Sports, Inc. v. Readmob Technologies (HK) Limited, et al, No. 1:17-cv-04043 (S.D.N.Y. May 30, 2017). To prevail on trademark infringement under the Lanham Act a plaintiff must prove:
1. That they own the valid mark;
2. Defendant used the mark in commerce and without the Plaintiff's authorization;
3. Defendant used the mark (or an imitation of it) "in connection with the sale, distribution, or advertising" of goods or services; and
4. Defendant's use of the mark is likely to confuse consumers.
Rosetta Stone Ltd. v. Google, Inc., 676 F.3d 144 (4th Cir. 2012). It is the fourth element that is of particular interest in the Teri Jon case. Readmob is a Hong-Kong based company with multiple retail websites selling women's evening apparel. Teri Jon alleged that Google enabled Readmob to use trademarks via AdWords to confuse and drive consumers to Readmob's sites which sold look-alike but sub-quality gowns for an average of $125.00 each.
In addition to other terms, AdWords sold by Google to Readmob were "Teri Jon Evening Gowns." See Complaint at 8, Teri Jon Sports, Inc., No. 1:17-cv-04043. When a consumer searched "Teri Jon" or the like, an ad from Readmob's sites came up with the headline "Teri Jon Evening Gowns." Blissfully ignorant consumers then went to the Readmob sites where they were inundated with Teri Jon (fake) gowns at staggering discounts. The site ensured consumers, "You can browse all of Teri Jon Evening Gowns . . . All products are high quality with adorable discount." Id. Teri Jon, like many other luxury fashion retailers, found nothing adorable about the discount. Teri Jon argued that Google was turning a blind eye to the nefarious sales, all the while profiting from the advertising.
Ultimately though, before Google responded to the suit, Teri Jon withdrew the complaint. While the confidential reason for the withdrawal was not given, a Google search of "Teri Jon" and "Teri Jon Evening Gowns" reveals the AdWords issue is seemingly fixed in favor of Teri Jon. Additionally, Readmob's websites (jjshouse.com & jenjenhouse.com) no longer have any reference to Teri Jon.
Interestingly, a similar trademark infringement complaint against Google was filed in late spring of this year by the law firm Gorayeb & Associates. Gorayeb & Associates, P.C. v. Google, Inc., et al, No. 1:17-cv-03805 (S.D.N.Y. May 19, 2017). Unlike the claim involving counterfeit products, the law firm alleged that Google allowed their trademark to trigger AdWord ads which then directed consumers to sites unrelated to their firm. Like Teri Jon, the complaint was withdrawn before Google answered.
These two cases came on the heels of a ruling against Google in 2012. Rosetta Stone alleged a trademark violation against Google by allowing their trademark to trigger search ads from other companies. Rosetta Stone Ltd., 676 F.3d 144. The 4th Circuit Court of Appeals ruled that the trial court prematurely dismissed the lawsuit. Before any further litigation proceeded or precedent could be set, Google and Rosetta Stone confidentially resolved the case. The resolution left open the issue of whether a trademark owner could prove the element of consumer confusion against Google. While technically a loss in court, the outcome was in reality a victory for Google.
The Teri Jon case represented a case of trademark infringement which bolstered the sale of counterfeit goods. This case, like its predecessors, demonstrates that the onus of discovering and thwarting trademark infringement is on the trademark owner. Owners, regardless of the product or service they provide, must be methodical and vigilant to ensure that their trademarks are not being used to re-direct consumers to unrelated or fraudulent websites.