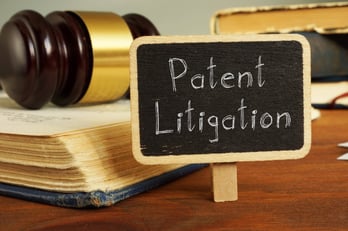 When a party files a complaint alleging its patent has been infringed, it must make a "short and plain" statement claiming either direct infringement, contributory infringement, or inducement of infringement. Fed. R. Civ. P. 8(a)(1); 35 U.S.C.S. § 271. The asserted claims in the complaint will point to specific claims in the patent that have been infringed. Often parties disagree on the meaning of the terms used in these claims. Since claim construction is crucial to the outcome of the litigation and because claims in a patent are often complex and highly technical, the Supreme Court has held that, "judges, not juries, are the better suited to find the acquired meaning of patent terms." Markman v. Westview Instruments, Inc., 517 U.S. 370, 388 (1996).
"Markman" hearings are common in patent litigation and often constitute crucial junctions in infringement cases. In 2016, for example, Peloton Interactive, Inc. became embroiled in a legal battle with VR Optics over a patent infringement claim involving Peloton's popular stationary exercise bike. VR Optics, LLC v. Peloton Interactive, Inc., No. 16-CV-6392, 2020 U.S. Dist. LEXIS 58241 (S.D.N.Y. Apr. 2, 2020). VR Optics held a patent for fitness equipment that simulated races between users in order to motivate and to encourage healthy competition. Id. at *7. It asserted that Peloton's bike, which includes a tablet so that users may participate in on-demand group fitness classes, infringed on several of its patent's claims. Id. at *8. The parties disagreed on the meaning of several terms in the VR Optics patent, so before the case could go to trial, the judge ordered a Markman Hearing in order to construe the disputed terms. VR Optics, LLC v. Peloton Interactive, Inc., 345 F. Supp. 3d 394, 396-97 (S.D.N.Y. 2018).
A judge may order a Markman hearing to occur at any time prior to trial. Each party must submit a brief stating its understanding of the claims, and the hearing may consist of various types of evidence, either intrinsic or extrinsic. Intrinsic evidence reveals the intention of the patent holder and includes the patent application itself, as well as communications between the patent holder and the patent examiner. If intrinsic evidence is insufficient to construe the claims, extrinsic evidence may be considered. Extrinsic evidence includes evidence such as expert testimony, dictionary definitions, and articles and treatises in the relevant field. Extrinsic evidence is less reliable, however, and should not be used to contradict the unambiguous meaning of claims gleaned from intrinsic evidence. Phillips v. AWH Corp., 415 F.3d 1303, 1324 (Fed. Cir. 2005). The goal of this sometimes tangled claim construction process is for the court to determine how a person of ordinary skill in the relevant field would understand the claim terms. The judge's order construing claims may be favorable enough for one party to file a successful motion for summary judgement or may be incorporated into jury instructions should the case go to trial.
Disputes about the meaning of claim terms is not limited to scientific or technical terminology. In their Markman hearing briefs, VR Optics and Peloton disagreed on the construction of several terms, including the meaning of the term "events." VR Optics, 345 F. Supp. 3d at 405-06. VR Optics's patent states that its equipment simulates "interactive exercise events." Id. VR Optics claimed that "events" necessarily referred to group experiences involving a plurality of users and that the patent application's later reference to individuals deriving motivation from other group members supported this construction. Id. The judge rejected VR Optics' interpretation of "events," holding that such a limiting definition was not supported adequately by intrinsic evidence and that the plain and ordinary meaning of the term "events" should control. Id. at 407. "Events" was one of several terms the court sought to construe in the Peloton case, and this battle over the definition of seemingly basic terms illustrates the frequently involved nature of Markman hearings.
These claim construction findings often play a crucial role in the outcome of a case. When the court ultimately granted Peloton's motion for summary judgement, it explicitly relied on claim definitions derived from the Markman hearing. VR Optics, 2020 U.S. Dist. LEXIS 58241 at *12-13 (citing VR Optics, 345 F. Supp. 3d at 411). This highlights the significance of Markman hearings, but, more importantly, it should serve as a warning to patent applicants about the consequences of failing to precisely define patent claims.