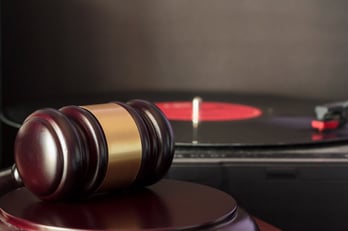 Music is ubiquitous in most people's daily lives. Everywhere from coffee shops to gyms to retail shops play music non-stop. However, even if everyone can hear it, the music isn't free. Businesses risk running afoul of copyright law by permitting live music, karaoke, DJs, and also by playing music in ways that the law considers "performances" without obtaining the proper licensure.
When individuals pay to download or stream music, what they are really purchasing is a license to listen to that music privately. The license received from a service like Spotify or Apple Music is a non-commercial license – meaning users are permitted to use the music for personal use but not permitted to "publicly perform" the music.
"Public performance," according to copyright law, simply means to play the copyrighted work in public – it is not limited to live bands or karaoke. Pursuant to copyright law, performance includes playing potentially any music in a business at all. Businesses that "perform" (or play) recorded music must therefore be mindful of the licensure requirements in order to avoid running afoul of copyright law. Licensure of copyrighted music is managed generally by performance rights organizations that parcel music catalogs – consisting of millions of songs – into a single license. These organizations both offer licenses to business based on a formula considering the size and other specifics of the business and bring litigation against non-compliant businesses.
A business that fails to obtain the proper licensure when performing music is subject to damages pursuant to 17 U.S.C. 504. These damages can be either actual or statutory. Actual damages mean the actual amount of damage caused by and profits received from the performance of music. Statutory damages are $750 to $30,000 per any single song – unless the copyright infringement is willful. When a copyright owner establishes that the copyright infringement was committed willfully, the court may increase the statutory damages award to $150,000. The statute further permits the court to award recovery of the full cost to any party and reasonable attorney's fees to the prevailing party as part of those costs.
Some businesses may meet the exemption provisions, but navigating these exemptions can be complicated. A business may be permitted to play music via a radio station or TV, if the business meets certain exemption requirements. For example, one business that may be exempt is a restaurant that is less than 3,750 gross square feet. Or a restaurant with more 3,750 gross square feet of space but fewer than six loudspeakers and fewer than four televisions with a diagonal screen size greater than 55 inches. Another type of potentially exempt businesses is a retail store or office with less than 2,000 gross square feet – or more than 2,000 gross square feet and fewer than six loudspeakers and fewer than four televisions with a diagonal screen size greater than 55 inches. Even if a business meets the requirements described here, it may not be exempt under other components of the exemption provisions.
Finally, copyright law dictates that certain willful infringements of a copyright is a criminal offense. These offenses can derive from infringement for the purpose of commercial advantage or private financial gain or reproduction or distribution of copyrighted work.