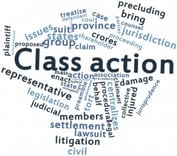 On January 8, 2016, the United States House of Representatives passed H.R. 1927, the Fairness in Class Action Litigation and Furthering Asbestos Claim Transparency Act of 2016 (the "Bill"). Putting aside the Bill's provisions regarding asbestos litigation, the Bill was drafted to tighten standards for class certification and has polarized many on both sides of the aisle, as well as the bar. As the Bill now sits in the Senate's Committee on the Judiciary, with threats of veto from the White House, it will be interesting to see what, if anything, makes it to law.
Introduced in by Representative Bob Goodlatte (R-VA) in April 2015, the Bill requires class members to demonstrate that they have suffered the same type – and the same scope – of injury. Rep. Goodlatte, and supporters of the Bill, argue that it is a necessary response to some courts' overbroad (or "too liberal") application of the class certification requirements. For example, while Federal Rule of Civil Procedure 23 requires a showing of commonality and typicality, and SCOTUS said that damages must be "capable of measurement on a classwide basis" (Comcast v. Behrend (2013)) , some courts have certified classes where the named plaintiffs cannot show that the putative class members actually share common injuries of the same type and scope. Among the prime examples are In re: Whirlpool Corp. Front-Loading Washer Products Liability Litigation (6th Cir. 2013) and Butler v. Sears, Roebuck & Co. (7th Cir. 2013) . (For a great analysis of these decisions, see my colleague's blog post here.) Among the problems with decisions like Whirlpool, are pressures to settle to avoid the time and expense of lengthy litigation that meanders back and forth from district court to circuit court, and back again; and dilution of recovery for those members of the putative class actually injured.
Opponents of the Bill, including the White House, argue that courts already have sufficient authority and discretion under existing rules to vet class actions. Democratic lawmakers attempted to include several amendments to the Bill that would exempt a majority of the types of class actions filed (e.g., civil rights, equal pay, fair housing, etc.). While those amendments did not make it into the Bill, the message is clear – this is not a bill that will see an easy road to passage. In fact, the website Govtrack.us gives the Bill only a 21% chance of being enacted.
As the Bill marinates in the Senate over the next several months, it will be interesting to see whether any of the previously failed proposed amendments resurface, or if the Bill sees any significant overhaul. In the meantime, class action practitioners will have to keep plugging away under Rule 23.