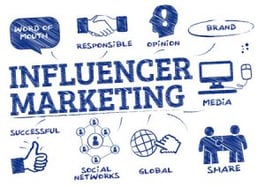 In January 2015, I wrote about the one thing every advertiser must know – disclosure laws. Last January, I wrote about the Federal Trade Commission's (FTC) response to accusations by certain consumer groups that it was not being aggressive enough in its review and enforcement of influencer marketing campaigns. This year, as influencer marketing continues to gain traction and popularity among companies of all sizes and scale, I take a look at the FTC's focus on the influencers themselves, as 2017 saw the FTC's first enforcement action against individual online influencers. No longer can an influencer hide behind the company or marketing agency that hired him or her.
What is an Influencer?
Online influencers are the social media version of key opinion leaders. An influencer is an individual who has cultivated a tremendous online following (often in the millions) as a result of his or her established (whether deserved or not) credibility in a specific industry, field, or market. Quite simply, an influencer can influence the purchase (or boycott) of any product or service based on the loyalty of their followers. Brands now seek out these influencers in droves to market, promote, and endorse their product or service as a means to drive revenue. It is not unlike the infomercials of the 1980s and 1990s that featured celebrities promoting various products. (Remember Suzanne Somers and the ThighMaster?) Now, the infomercial is not on television, it is on Instagram, Twitter, or Snapchat, and the influencer need not be a "traditional" celebrity. (Ever hear of DanTDM? Me either, until my 9 year old started playing Minecraft.)
Duty to Disclose
As my prior posts detail, disclosures are not new. Section 5 of the Federal Trade Commission Act (15 U.S.C. §45) prohibits "unfair or deceptive acts or practices in or affecting commerce." Among such potentially deceptive acts is the failure to disclose, i.e., the failure to share, in a clear and conspicuous manner, any material connection between the promoter and the company, product, or service being promoted. A "material connection" can include payment, an ownership interest in the company, employment by the company, receipt of free or discounted goods or services, or familial relationships. In other words, a material connection is anything that a reasonable consumer would rely on when evaluating the endorsement or review.
This past September, the FTC issued an updated version of The FTC's Enforcement Guides. The updates include answers to questions specific to social media influencers and marketers. For example, the Guides now address "tagging," i.e., including a company's or person's social media handle in your post. "Tagging a brand you are wearing is an endorsement of the brand and, just like any other endorsement, could require a disclosure if you have a relationship with the brand." Put differently, if you tag a brand in a post, but fail to disclose a material relationship with that brand, then you may be in violation of the FTC Act; tagging alone is insufficient to disclose a material connection.
Additional updates include guidance on using built-in features some platforms now provide to allow disclosures of paid endorsements, as well as how to disclose on Snapchat and other platforms that provide "story" features. (Tip: superimpose your disclosure over the images.)
First Law Enforcement Action Against Individual Influencers
In 2017, the FTC settled its first complaint against individual online influencers, Trevor "TmarTn" Martin and Thomas "Syndicate" Cassell. According to the FTC's draft complaint, Martin and Cassell are online influencers who operate YouTube channels focused on online gaming and enjoy millions of subscribers. In fall 2015, Martin and Cassell started operating and advertising a website, www.csgolotto.com, that offered consumers the opportunity to gamble using virtual currency ("CSGO Lotto"). Martin and Cassell earned revenue from the betting service by charging a service fee, and received free virtual currency with which to gamble on CSGO Lotto. Martin and Cassell promoted the website, as well as paid other influencers to promote the site on various social media platforms. However, neither Martin nor Cassell ever disclosed that they owned the company behind the online betting site, CSGOLotto, Inc., nor did they require the other influencers that they hired to promote the site to disclose the payments.
Following an investigation, the FTC entered into a consent order with Martin, Cassell, and CSGOLotto, Inc. The order requires, among other things, that Martin and Cassell "clearly and conspicuously" disclose any material connections with an endorser, or between an endorser and any promoted product or service. The order defines "clearly and conspicuously" as "difficult to miss (i.e., easily noticeable) and easily understandable by ordinary consumers."
The order also includes extensive monitoring, recordkeeping, and reporting requirements. For example, Martin and Cassell must provide each endorser hired by the company with a "clear statement of his or her responsibilities to disclose"; "[e]stablish, implement, and thereafter maintain a system to monitor and review representations and disclosures of endorsers"; and, for the next ten years, submit "compliance notice[s]" to the FTC, as well as maintain various records relating to revenues, consumer complaints, and compliance with the order.
Warning Letters to Influencers
In addition to the FTC's first enforcement action against individual influencers, the Commission sent follow-up letters to more than 20 social media influencers who previously received "educational letters." The follow-up "warning letters" identify specific social media posts "of concern" and explain why such posts may not be in compliance with the FTC Act. The FTC did not disclose the names of the influencers who received the warning letters; but, various media outlets received copies of the letters in response to Freedom of Information Act requests, which identified a number of celebrities with significant followings on Instagram. These communications are ongoing and it is yet to be seen whether any will result in formal action by the FTC.
Conclusion
While technology may be changing the way we market, the necessity of proper disclosure remains constant. As we kickoff 2018, take a moment to review your company's policies and programs to ensure that you are in a position to defend your online marketing practices. Don't have a policy or program? Get one – fast.