Erin has significant experience defending state and federal class actions, and frequently assists clients navigate a variety of contract issues (e.g., non-compete, non-disclosure, non-disparagement, employment, licensing, distribution, trade secrets, entertainment). She also leads the firm's media and communications practice, which includes First Amendment and advertising issues, public records, trademark, copyright, and open court issues. Her practice regularly focuses on assisting clients in the health care, pharmaceutical, data analytics and technology, consumer products, education, logistic, and material handling industries.
In addition to her practice, Erin is a prolific author and speaker. She has published articles in numerous American Bar Association publications, The Federal Lawyer, the Ohio Lawyer, and the Dayton Business Journal. She has been recognized as an Ohio Super Lawyer, Ohio Super Lawyer Rising Star, Benchmark Litigation Top Litigator Under 40, and a Power 50 Honoree, which recognizes the Dayton region's most influential women in business. Click icon below for the Dayton Business Journal article highlighting Erin's inclusion among the nation's 2019 Legal Influencers.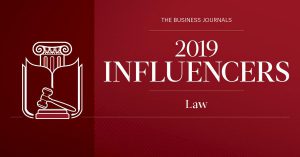 You can learn more about Erin here, and about the firm at www.ficlaw.com.