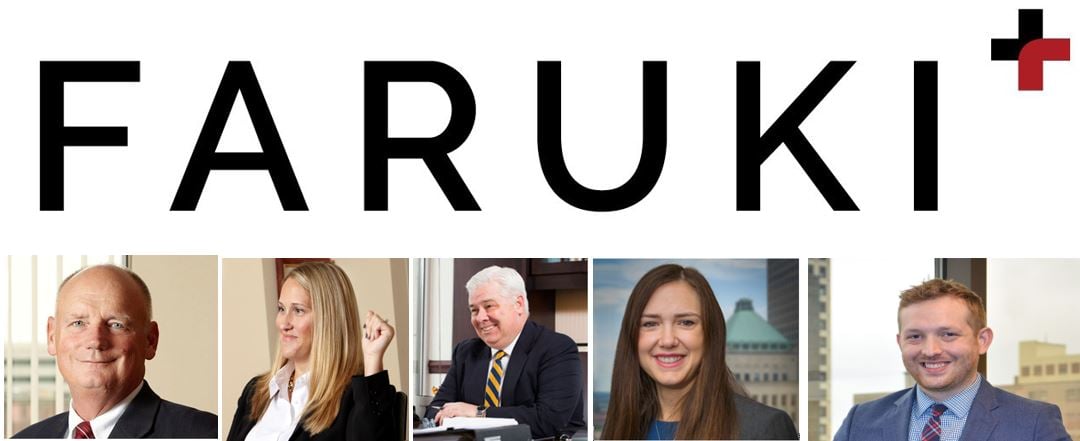 DAYTON, OH— December 30, 2021 — Partners Jeff Ireland, Erin Rhinehart and Jeff Cox have been recognized once again for their notable talents in law in the 2022 edition of Ohio Super Lawyers magazine and have been named Ohio Super Lawyers for 2022. Jason Palmer and Melissa Watt were both named 2022 Ohio Rising Stars.
Super Lawyers is a rating service of outstanding lawyers from more than 70 practice areas who have attained a high degree of peer recognition and professional achievement. The selection process is multi-phased, and includes independent research, peer nominations and peer evaluations. Rising Star recognizes the top up-and-coming attorneys in the state – those who are 40 years old or younger, or who have been practicing for 10 years or less. Super Lawyers magazine is published in all 50 states and reaches more than 13 million readers. For more information, visit http://www.superlawyers.com/.
About Each Attorney:
A founding partner of Faruki PLL and recognized each year by his peers in the Ohio Super Lawyer poll, Jeff Ireland has tried cases throughout the United States in federal and state courts, and is a frequent mediator and arbitrator. His practice focuses on competitive issues (e.g., trade secrets, antitrust, false advertising, etc.) as well as class actions and employment. The 4th edition of Benchmark Litigation, Labor & Employment has recognized Jeff as a Labor & Employment Star. For several years, Jeff has been recognized as an America's Top 100 High Stakes Litigators by America's Top 100 LLC. Jeff was also listed in the latest edition of Benchmark Litigation as a "State Litigation Star" and was also selected for the latest edition of Best Lawyers in America®, and again named "Lawyer of the Year". He is listed in Chambers USA: America's Leading Lawyers for Business, and he was invited into the International Society of Barristers, based on his trial experience. Jeff is on the Advisory Council of the University of Dayton School of Law and was previously awarded the University of Dayton School of Law's Distinguished Alumni Award for his service to the community and the profession. He also received an Access to Justice award for service to the community. He is also a member of the American, Ohio, Dayton, and Cincinnati Bar Associations. He is a past President of the Dayton Bar Association.
Erin Rhinehart is Co-Managing Partner of Faruki PLL. She frequently defends class action litigation in state and federal court, with a focus on consumer, health care, mass tort, and environmental issues; and assists clients with a variety of contract (licensing, distribution, master services agreements, franchise agreements, non-compete, entertainment, non-disclosure, and non-disparagement agreements) and employment issues. Erin also leads our firm's media and communications practice (First Amendment, defamation, anonymous speech, public records, trademark, copyright, trade secrets, open courts, advertising law, social media, and certain privacy issues). She has first-chair jury trial experience, and has argued before various appellate courts in Ohio, including the Supreme Court of Ohio. In 2021, Erin was selected to appear in the 10th edition of Benchmark Top 250 Women in Litigation. Erin was also inducted into the Dayton Business Journal's Forty Under 40 Hall of Fame, and included among Benchmark Litigation's 40 & Under Hot List. Erin has been repeatedly recognized by Benchmark Litigation and Ohio Super Lawyers, as a Rising Star and Super Lawyer. Erin has been repeatedly recognized as one of Dayton Business Journal's Power 50 recipients, which identifies Dayton's most influential business women. She has also been recognized as one of America's Top 100 High Stakes Litigators for several years. In both 2020 and 2021, Erin was named Premier Health Care Lawyer for Dayton – a recognition given to just one health care lawyer per city.
Jeff Cox represents clients in a wide array of business and commercial litigation matters, including contract and business torts, technology, privacy and data security, products liability cases, class actions, and professional malpractice claims. A 2022 Benchmark Litigation "Local Litigation Star", Jeff is recognized as a "Best Lawyers in America®" honoree for commercial litigation and litigation-antitrust, and is rated "AV Preeminent" by Martindale Hubbell. Jeff is a long-standing member of the Federal Bar Association's Government Relations Committee, and the Board of the FBA's Federal Litigation Section; he also served for many years as Editor of the FBA's award-winning litigation newsletter, SideBAR. A Senior Fellow of the Litigation Counsel of America and a Life Fellow of the Foundations of the Federal, American, Ohio and Dayton Bar Associations, Jeff is a past president of the Dayton FBA chapter; the Dayton Lawyers Club; and the Carl Kessler Inn of Court. Jeff is Chair of Miami Valley Public Media, Inc., the parent of WYSO, the National Public Radio affiliate for west central Ohio; he also moderates the Greater Dayton Bench Bar Media Forum.
Jason Palmer has experience litigating and trying cases in both state and federal courts, on matters including consumer protection statutes, advertising law, class action defense, breach of contract, non-compete agreements, trade secrets, alternative dispute resolution, distributor disputes, and labor and employment matters. Jason also advises corporate clients in an outside general counsel capacity on employment issues, contract negotiation and drafting, regulatory compliance, and other day-to-day business matters.
Melissa Watt focuses on complex business litigation and contract disputes, including fraud and deceptive practices. Melissa has experience in all aspects of the litigation process, from pre-litigation claim analysis to alternative dispute resolution to appeals. In 2019, Melissa was chosen to be an inaugural recipient of PLEDGE Recognition -- Promoting Lawyer Excellence & Driving Gender Equality, that spotlights emerging women in litigation and in the legal profession as a whole. Prior to joining the firm, Melissa clerked for Judge Pat DeWine – now Justice Pat DeWine – at Ohio's First District Court of Appeals. Melissa also started, co-owned, and operated her own business creating customizable training materials for manufacturing and industrial companies before attending law school
About Faruki+
Faruki+ is a litigation firm with offices in Dayton and Cincinnati that handles complex disputes, including intellectual property, class actions, competition-based litigation, employment, antitrust, privacy, commercial litigation, and arbitration. You can find Faruki+ on LinkedIn and Twitter at @FarukiMediaLaw. Also, visit the business litigation blog site, for the latest developments in business litigation, intellectual property, data security, communications and media, class actions, and employment.